How "One and Done" is Killing Your College Basketball Team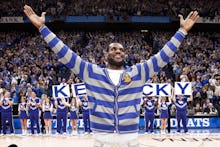 When the NBA increased the minimum age for entry into the draft, it was first applauded as a step in the right direction. But since the age limit was raised to 19, we've seen a flood of players leave college after a year to play in the NBA. Last year's draft class featured six freshmen in the first round alone. No one can blame them, really. Players had jumped to the NBA directly before from high school in years past, and the new age limit simply delays this by a year.
A couple of players — Brandon Jennings and Jeremy Tyler — have even professionally played overseas instead of going to college prior to declaring for the NBA draft. Andrew Wiggins, the most anticipated prospect since John Wall, begins his first season at the University of Kansas and has already made it clear that he will enter the draft and leave after only one season in the college game. So, does "One and Done" really make a difference? It does in the college game. In fact, it's killing college basketball.
Courtesy ESPN.
The best players leave every year, only to be replaced by another crop of one-year players that will leave once their mandatory year is finished. This impacts the on-court product in ways that were not anticipated before. When a team loses their most talented players every year, what's left are players who have less ability. The high-level players that are in the college game today are concentrated in a few programs, like the University of Kentucky, that embrace the "One and Done" players and simply restock every year. Programs have become simple collections of talent that produce wins, regardless of player development or coaching.
So much of what makes basketball beautiful is the way it showcases how a group of five players can work together to accomplish more than they can on their own. When you have more than one talented player on the floor, the pace, quality of play, and fan experience are enhanced immeasurably. Michigan State's victory over Kentucky on Nov. 12 helps prove this. The Spartans, with all of three freshmen on the roster and led by three seniors, showed why a team that is built and plays together is a much better on-court product.
Courtesy BourbonBlog.
Kentucky, galvanized by John Calipari, is both a success story and cautionary tale for relying on "One and Done." Sure, he has a national title, but last year's team lost nearly all of its talent from the previous season and couldn't make it out of the first round of the National Invitation Tournament. Instead of returning with a roster full of experience with a chip on its shoulder, Kentucky is trotting out another nearly all "One and Done" lineup. In fact, this season's team has only two seniors on the entire roster.
"One and Done" has been criticized over the years, but always in the context of the individual players. It has always been seen as unfair to those with the talent to skip college altogether and turn pro, forcing them on a choice that otherwise may not have been made. After all, we don't expect everyone to go to college. But when fans want to establish a fund to pay a player like Wiggins to stay in school, there is a problem. These players know that endorsements and million-dollar salaries are theirs for the taking in the NBA, but even more so, the fans and coaches know it too.
Courtesy Kentucky.com.
With more attention paid to these high profile freshmen, college basketball is losing basketball fans in exchange for fans of basketball players. If college football helps prove anything, it's that the sport is better when players stay and coaches build programs. Not only will the game be better, but teams and individuals all across the game will be better for it.