This is the Condom Of the Future, Sponsored By Bill Gates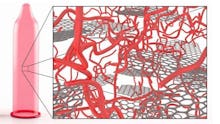 The news: Bill Gates had a mission: build a better condom. In March, he announced a contest to develop a new condom that "significantly preserves or enhances pleasure, in order to improve uptake and regular use."
On Wednesday, November 20, the Bill and Melinda Gates Foundation announced the 11 winning projects that will receive $100,000 grants to develop their ideas for the "Next Generation Condom."
The winners: The 11 winners – selected from 812 applicants – come from around the globe.
Among the winning designs is the Rapidom, developed by Willem van Rensburg of Kimbranox Ltd. in South Africa, which is a male condom "designed for easy, technique-free application" that users can apply in one simple motion.
Source: Bill and Melinda Gates Foundation
Winners from the Cambridge Design Partnership have plans to develop a condom "that will provide a universal fit" and "gently tighten during intercourse, enhancing sensation and reliability."
Source: Bill and Melinda Gates Foundation
And there's the design from Dr. Aravind Vijayaraghavan from the University of Manchester, which will be made partially out of graphene. The new condom's material "can be thinner, stronger, more stretchy, safer and, perhaps most importantly, more pleasurable."
Source: Bill and Melinda Gates Foundation
Why this matters: At first it might seem frivolous to spend so much money simply to design a new condom. But it's actually a noble pursuit. Bill Gates recognizes that not enough people (especially young people) use condoms regularly during sex, and even when they do, they often use them wrong. And Gates is a realist. He knows if a condom feels better, people are more likely to use it. Dedicating time and money to developing a condom that feels good and is easy to use is money well spent.
In 2008, there were 86 million unintended pregnancies worldwide. When used correctly, condoms are 98% successful at preventing pregnancy. The trouble is, they're often not used correctly. An easier to use condom will make it easier to prevent unplanned pregnancy, along with sexually transmitted diseases. So if Bill Gates wants to bring the condom into the 21st century, I say we let him.