6 Questions With Ai Weiwei On How to Make Art With a Repressive Government Watching Your Every Move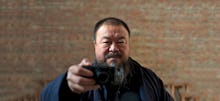 Few living artists are as famous as Ai Weiwei. Ai has used his growing international celebrity to cast light on the dark realities of China's government, and in the process has become one of the most vocal opponents of the regime's infringement of free speech. A new documentary, The Fake Case, follows the last two years in Ai's tumultuous journey.
In 2011, Ai was arrested in Beijing while boarding a flight to Hong Kong. He spent 81 days in solitary detention, where he probably would have remained if the international media hadn't pointed to his story as a violation of human rights. The Chinese authorities say Ai was arrested on charges of tax evasion, online pornography and bigamy. Many call this a "fake case," saying the arrest was a clear response to Ai's criticism of the government. After his release, Ai was placed under house arrest and remains constantly monitored. As his passport was confiscated, and never returned, he is unable to leave the country.
Ai first received major international attention when he became involved in the design of China's 2008 Olympic stadium, the Bird's Nest. From there, Ai's work gained global attention for its critical look at modern China. In Munich, he produced the installation "Remembering," a reflection on the 2008 Sichuan earthquake, where thousands of children died when their poorly built schools collapsed (the result of governmental corruption). In "Remembering," Ai used 9,000 children's backpacks to spell out the text, "She lived happily for seven years in this world" – words spoken by the mother of a little girl who died during the quake.
In 2010, Ai created "Sunflower Seeds," an exhibition that used 100 million porcelain sunflower seeds as commentary on mass production and the role of the individual. By this point, the Chinese government was keeping a close eye on Ai.
The Chinese government has successfully restricted Ai's mobility, but his art and message have global reach. His embrace of multiple mediums – installations, photography, music, sculpture, film, social media – has carried his influence across myriad channels.
In addition to the release of the new film, Ai is working on a range of projects around the world. He was a judge in absentia at the Stockholm Film Festival this week, he will present new work during Art Basel Miami Beach in December, and he recently launched an online project called Moon, which enables people across the globe to draw together online. He does this all without being able to leave China. As the Moon mission asserts, "Creativity defies boundaries. Ideas, wind, and air no one can stop." 
Ai spoke to PolicyMic from China about his ongoing projects and condition.
Elena Sheppard (ES): You just finished up serving as a judge at the Stockholm Film Festival but because of travel restrictions were unable to leave China to attend. In your place, you sent an empty chair. What message were you sending with this chair? What do you want those attending the festival to acknowledge and understand?
Ai Weiwei (AW): Well, in life I always try to avoid direct reactions to events, or to incidents or to whatever happens, because we don't have much time. The most important lesson in life is how to react.
When I was invited [to Stockholm] I think the absence itself needed to be marked.
ES: You also recorded a video message to send with the chair: "In the internet age, especially, documentary films have made a great appearance in talking about issues, discussing truths, and also revealing secrets about those in power … especially when the power is not elected by the people." Is this why you've often chosen to tell your story through documentaries like The Fake Case? What were your intentions for this film?
AW: The Fake Case is made by a Danish friend, Andreas Johnsen. He is a very young and very experienced filmmaker. I respect his work very much. He has done so many films in very, very different aspects and he's really passionate and devoted. He's come to China many, many times – I can't even remember how many times – and we spent time together as friends, but he was always shooting.
I'm happy he finally has this film out. It really quite reflects my condition – through his view and his eyes – of what's been happening the past two years. I think, it not only tells my story but also reflects the condition in China ... [The Chinese government] just tries to use any means to maintain so-called stability, but not even to be morally right or aesthetically sound. The way they try to [maintain stability] is to fabricate cases that are not there, and also to try to destroy somebody's name. That is really a sign of weakness. They're trying to avoid the truth and facts. I really feel sorry to see that kind of condition.
ES: There's The Fake Case documentary, before that, Never Sorry, and recently you made the music video "Dumbass" about your 81 days in detention. Why did you choose to depict your time in detention this way?
AW: "Dumbass" is about my experience in detention and since so many people are curious about it, and since this kind of detention is so secret, nobody ever knows what's happening inside. So for me, it became a necessary act to explain my situation.
ES: Tell us a little about your show opening at Art Basel Miami in December. How will this year's work differ from what you've shown at Art Basel in the past?
AW: I will have a show at the new museum [The Pérez Art Museum], which is the next stop for the "According to What" traveling exhibition. The show has a few new works, like a new bicycle work. It's the first time being shown in the United States in that kind of condition.
ES: Your Instagram account has become something of a cult sensation. Do you find that social media is more a part of your art, your political activism, or your daily life? Or are they all one in the same?
AW: For me it's very hard to separate my so-called art, and my daily life, from my so-called social activism. They have become one, and I can't even think of their being separated.
ES: Tell us about the new online collaboration that you did with Olafur Eliasson on Moon. How did that happen? Is this a new direction for your art?
AW: I think as an artist I'm always seeking new ways to express myself and also to communicate. Olafur Eliasson is a longtime close friend and has been very supportive in many ways to me and to freedom of speech. We think the project is a great opportunity to work together on the internet since we cannot see each other, and I cannot travel.
It's very natural that we do something where we can share ideas and build up this common platform for anybody who would like to use it. It's a gift.
I think so many people in love use it because there are many people that are shy to use other kinds of communication, but here together they can pen their own language. It can be secret, can be private, can be their own – it just shows their own character. I think that's nice. 
For more information on the artist visit AiWeiwei.com.