Does Your State Have No-Drone Laws? Check This Map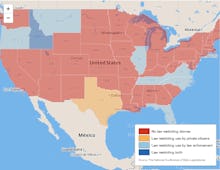 Worried about your neighbor spying on you with a domestic drone? What about your local police station? Or are you looking forward to getting your hands on a drone of your own? Well, you might want to check out your state's laws on drone use.
Mother Jones has put together a map breaking down drone laws by state.
Source: Mother Jones
So far nine states have passed laws limiting the use of domestic drones either by private citizens or local law enforcement. All of those laws were passed in 2013, with the most recent coming in August.
Florida, Illinois, Montana, Oregon, Tennessee, and Virginia all have laws prohibiting use of drones by local law enforcement without a warrant, with some exceptions for emergencies. North Carolina has prohibited law enforcement from purchasing drones while the issue is examined. Texas restricts drone use by private citizens, exempting academic research. Idaho passed legislation prohibiting warrantless drone use by both local law enforcement and private citizens.
With 30,000 drones expected to be in use by 2020, the number of states legislating their use is bound to increase. The Ohio state legislature is currently considering a bill that would restrict warrantless drone use, similar to the laws already enacted in those nine states. 
Drones could be a booming industry in the second half of the decade, creating a $10 billion marketplace over the next three years. The Association for Unmanned Vehicle Systems International predicts the drone industry could be worth $80 billion to the United States economy over the next ten years.
But what does the American public think about drones? Despite some high-profile condemnation, the United State's use of drones abroad is actually pretty popular among the general public. The same goes for domestic use: 63% approve of general police use of drones for crime fighting, and 61% support commercial drone use.
The Federal Aviation Administration is considering regulations on commercial drone use by 2015, but until then, expect state legislatures to continue passing their own restrictions as the skies become littered with unmanned aircraft.