China Now Has a Stealth Drone — What Does That Mean For America?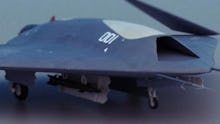 The news: China has launched and tested its first unmanned stealth combat aircraft, crossing a milestone in drone technology and marking the country's rapid advancement towards Western-level military capabilities. 
According to Chinese media, the tailless delta-wing drone successfully flew for 20 minutes on Thursday from a southwestern Chinese testing facility. The aircraft is reportedly similar to the U.S. Navy's X-47B drone, which first successfully took off from and landed on an aircraft carrier in July, while others have suggested the drone is a reverse-engineered copy of Russia's Mikoyan Skat UAV.
What is the drone? Identified as the Li Jiran, or "Sharp Sword," photos of the aircraft have been circulating online for quite some time:
Image credit: IISS
Image credit: Business Insider
Chinese state media hailed the new drone, with China Daily saying, "The successful flight shows the nation has again narrowed the air-power disparity between itself and Western nations," making China the "fourth power … capable of putting a stealth drone into the sky." It added that the aircraft was developed by two subsidiaries of Aviation Industry Corp of China.
State broadcaster CCTV said on its international channel that the flight lasted 20 minutes in the southwestern city of Chengdu, that it was of "major significance," and "implies that China has made the leap from from drones to combat drones."
What will they use it for? Analysts said that the move was a major step forward, but that the Chinese combat drone lacks the design finesse and years of engineering experience that went into its Western equivalents. Observers on defense websites said the Sharp Sword appeared to be outfitted with Russian turbofan engines that were detrimental to its stealth ability.
The craft could potentially be used for surveillance or launching missile strikes, possibly from China's sole aircraft carrier, the Laoning, which was purchased from the Ukraine in September 2012 and is expected to be fully functional in several years.
A drone was at the center of a diplomatic squabble between Beijing and Tokyo in September. China and Japan's contested control of a group of islands known as Diaoyu in China and Senkaku in Japan heated up briefly after an unmanned aircraft flew near the islands, causing the Japanese air force to scramble fighter jets. China later stated that shooting down their aircraft would be an "act of war."