5 Lesbian Films That Get Same-Sex Love Right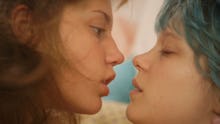 Blue is the Warmest Color made headlines with its "soft porn" sex scene, cast and director feuds, potential lawsuits, and rumors of theater pull-outs. While the recent off-screen heat may have detracted from the film itself, there's one thing people are still whispering about: Does the film realistically depict a lesbian relationship?
Blue is the Warmest Color has received flak for portraying lesbian sexuality in a way that most lesbians wouldn't connect with — even Julie Maroh, the author of the graphic novels on which the film is based, has distanced herself from the film.
Directed by a man (Abdellatif Kechiche) and starring two seemingly straight women (Léa Seydoux and Adèle Exarchopoulos), Blue is the Warmest Color arguably is not the best representation of LGBT relationships or, well, lesbian sex. Whether or not you believe straight actors can portray LGBT characters, it's undeniable that lesbians and gay men have a particular lens through which they view relationships and sexuality. Their experiences as LGBT-identified folks inform their perspectives, and this should be reflected by their creative, cinematic work. As Maroh has noted, what was missing on the set of Blue is the Warmest Color were the people who actually engage in same-sex relationships, people who understand lesbianism and queerness in a way that someone who is heterosexual does not.
"Brokeback Mountain isn't an example of gay cinema any more than Blue is the Warmest Color is an example of lesbian cinema, and I'm sorry if that comes as a shock to you," writes Autostraddle blogger Kate in her review of the film discussion of the problems inherent in its male gaze. "A narrative about queer people as directed and portrayed and produced by straight people cannot be considered a work of queer cinema in the same sense that a film written, directed, and portrayed by queer people is."
So, in honor of queer cinema — that is, cinema made by, starring, or directed by LGBT people — here are five lesbian films that capture the lesbian experience. Spoiler alert: Blue is the Warmest Color doesn't make the cut.
1. Kyss Mig/With Every Heartbeat
As with any genre, there are a lot of low-budget, poorly-written, and poorly-edited LGBT films out there. But there are also a number of truly high-quality movies — like Kyss Mig­. Part family drama and part romance, Kyss Mig (translated as With Ever Heartbeat) tells the story of Mia and Frida, women on their way to becoming step-sisters after the engagement of their parents. Further complicating their story is the fact that Mia is also engaged to a man, a situation that forces the two women to make some very difficult and confrontational decisions.
The plot may seem melodramatic, but the two lead actresses' performances are elegantly understated and quiet, and relatable to any audience, gay or straight. Open lesbian Josefine Tegblad produced the film and has said that it in many ways mirrors her own experiences of falling in love with another woman. In an interview with Curve magazine, Tegblad said, "I wanted it to be how I experienced it. We didn't want to make the gay theme the only focus. We just wanted to tell a story about love and not do any political thing or try to change the world. We just wanted to tell this story about a person falling in love with another person."" 
2. Mosquita y Mari
The award-winning debut film from openly queer director Aurora Guerreo, Mosquita y Mari is a story of first love and self-discovery. Coming to terms with and exploring your sexuality is a major experience for anyone, but it takes on a different significance when a relationship is same-sex, and cultural and political environments limit your freedom and safety. It's no surprise that this a common theme in LGBT films. But however textbook Mosquita y Mari may sound on paper, it's a uniquely honest portrayal of how it feel to identify as LGBT in a community of color. 
3. Room in Rome
Room in Rome is unlike most LGBT films out there — for better or worse. It attempts to delve into the realm of art house cinema as it tells a melancholic story of two strangers meeting and falling in love in over the span of one night in a hotel room .
There are some visually stunning scenes, including a particularly poignant one where lead Alba (Elena Anaya, who has been romantically linked with Beatriz Sanchis) shifts between a fantasy and reality in which love is physically killing her. The characters exist in a world-within-a-world, referring to various (possibly real, possibly fictitious) lives outside the hotel, and the truth is very much muddled in this dream-like state. The film tries to sell itself via its explicit sexuality and full-frontal nudity, but there's more to it than pretty women. 
4. But I'm a Cheerleader!
An unabashedly camp romantic comedy, But I'm a Cheerleader is the directorial debut of well-known out-filmmaker and screenwriter Jamie Babbit. It tells the story of a pretty high school cheerleader who is sent off to an ex-gay camp by her family. The conversion therapies used are awkward, and the technicolor sets and pervasive use of neon pink add an utter flamboyancy to the whole romp.
5. I Can't Think Straight
A solid, light-hearted rom-com, I Can't Think Straight has everything you would want in a date-night movie: a little bit of drama, a lot of cheesy, heartfelt moments, and the happy ending you'd expect. There's nothing particularly groundbreaking in this neatly-wrapped movie, although it does try to coolly assert itself in a strangely political way (the characters are Muslim and Christian Palestinians now living in the UK). Any references made to Israel or God provide context for the leads' relationship: It's not easy being gay in a community that struggles to accept homosexuality.
I Can't Think Straight is directed by Shamim Sarif, the out author and director of the equally-great The World Unseen, a subtle historical film exploring lesbianism in 1950s South Africa.