An Al-Qaeda Fighter's Instagram Account Shows Unbelievable Photos Of War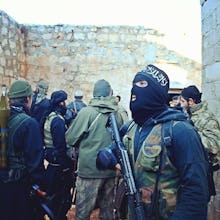 While a lot of attention has been paid to the role of social media in the Arab Spring uprisings that began in late 2010, less attention has been paid to the way in which apps like Instagram have allowed individual soldiers to represent — and promote — their experiences of war.
Instagram user Chechclearr has posted nearly 300 photos of his experiences fighting with rebel forces, including Al-Qaeda affiliated groups, in northern Syria, where conflict has come to a stalemate.
Surprisingly, though Chechclearr's account has an incendiary name (it refers to a viral beheading video that purports to have been filmed in Chechnya), its photographs range from bloody, to mundane, to sentimental, and seem engineered to present a personal glimpse into one soldier's life at war — replete with cat photos.
Editor's note: Since this story was published, Chechclearr seems to have deleted his Instagram account, making his photos unavailable. We've replaced a few photos where possible.
1. Chechclearr speaks Dutch, but annotates his photos in English. In this picture, a jihadist flag is planted atop an army base outside of Aleppo.
2. Like any good Instagram user, he also documents his meals.
3. Gratuitous photos of weaponry ("#syria #mortar #jihad") …
4. … are accompanied by photos of mourners. Approximately 100,000 people, and 11,000 children, have died as a result of the Syrian Civil War.
5. Chechclearr has a number of videos showing direct conflict.
There are also videos of the fatalities that result.
6. In this video, anti-aircraft fire is aimed at buildings instead of planes.
7. When he's not describing soda and guns as "goodies" …
8. ... Chechclearr posts selfies …
9. … and photos of flowers …
10. … and videos of children and kittens, in a calculated attempt to win online viewers hearts and minds.
11. Bashar Al-Assad's repulsive regime, now infamous for using chemical weapons against citizens, deserves to be deposed.
(That's Al-Assad's father and fellow Syrian autocrat Hafez Al-Assad getting stepped on.)
12. However, it's not clear that Free Syrian Army-aligned Islamist rebel groups, many of which merged on Friday to form a group called Islamic Front, present a brighter future for the people of Syria.
13. As disturbing as the gas attacks were, far more Syrian deaths have been caused by conventional weapons.
14. According to a report by advocacy group Action on Armed Violence, 40% of the deaths have been caused by explosives alone.
The report can be found here.
15. And rebel groups have been funded by foreign governments that may not have the Syrian people's best interests top of mind.
The United States has delivered food and medicine to the Free Syrian Army, while funding has come through Saudi Arabia and Qatar.
16. Which is why, though Chechclearr may use filters …
17. … and has a thing for heterochromic felines …
18. … it's worth remembering that his photos are the photos of a man who kills …
"Both loved by the Mujahideen."
19. … may be more interested in death than life …
20. … and is absolutely interested in manipulating your opinion of his role in a long and deadly war.
Overall, Chechclearr's photos highlight how much war's representation in the media has changed over the past half century. In the 1960s, the Vietnam War heralded a new era of photography and television news documentation, allowing people around the world to witness the front lines of combat in a way they never had before. Depictions of gore, human tragedy, and the young soldiers mired in conflict fueled popular outrage against that war, and accelerated America's withdrawal.
While governments have since moved to control journalists' access to combat zones, the advent of digital cameras and social media has, for better or worse, made photography from war zones even more readily available. As Syrian state propaganda and civilian videos circulate online, Syrian rebel soldiers like Chechclearr are no longer simply tasked with fighting an enemy on a battlefield, but with conducting a public relations campaign for their cause.
To that end, when he's not firing guns or taking pictures with his Galaxy Note 3, Chechclearr can also be found on Kik and ask.fm.