This Gay Activist Was Beaten and Now He Has a Message For Every Young Person Interested in Change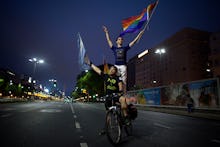 "With an Argentine Pope, there can't be any Argentine fags!"
That was what Pedro Robledo heard yelled at him as he was violently attacked for dancing with his boyfriend during a university party in Buenos Aires earlier this year. 
The hate crime sent shock waves across Argentina, and was an especially jarring incident for a country widely considered to be a world leader in LGBT rights. In 2010, Argentina became the first country in Latin America to legalize same-sex marriage. Last year, it passed landmark legislation that makes it easier for transgender individuals to change their identity documents to reflect their true gender and guarantees free sex reassignment therapy.
And this Wednesday, the national legislature debates a civil code that will impact families with same-sex parents. But even with progressive legislation on the books, the attack against Pedro shows just how complicated the road to equality can be. 
Instead of being silent, Pedro has used the media attention from the attack to draw attention to LGBT rights in the country, and he's pushing politicians to find common ground on these issues.
At just 22 years old, Pedro is the director of diversity and inclusion at the Fundación Pensar, an influential think tank, and works directly with the City of Buenos Aires on a broad set of LGBT-related initiatives. He regularly appears in the press, and has quickly become a well-known young activist.
In this interview with PolicyMic, Pedro discusses youth activism, politics, and why he thinks that young people are the key to fighting for political change today. His responses have been translated and edited for clarity and length.
Cameron Combs (CC): In the United States, marriage equality has been the most salient LGBT issue for several years. What have been the priorities for activists in Argentina since same-sex marriage became legal three years ago?
Pedro Robledo (PR): Many items remain on the agenda in the wake of marriage equality. Prior to 2012, the passage of the transgender rights law was one such priority, and now its implementation is incredibly important. We are also fighting for a federal anti-discrimination law that includes sexual orientation and gender identity. Another objective must be the participation of the trans community into a formal labor market as a step towards greater social inclusion. (Note: The vast majority of trans individuals lack formal employment in Argentina, the bulk of whom turn to prostitution to support themselves.)
CC: How successfully has the transgender law been implemented?
PR: The ability to modify identity documents has been largely successful, though access to sex reassignment therapy remains elusive in much of the country due to problems like a lack of doctors trained in trans care outside of Buenos Aires.
CC: What have been some of your strategies to engage young people on LGBT issues?
PR: Access to an integral sexual education is one of the biggest challenges facing the LGBT community, so I'm thrilled that, in conjunction with the city of Buenos Aires, we have advanced a program called #ChauTabú (Ciao Taboo). This is an online site that is geared towards young people about contraception and sexual health that breaks a heteronormative paradigm.
I believe that governments must seek out young people, because they are not going to seek us out. For this reason, after much debate on our team, we choose to move forward with #ChauTabú to promote sexual health and combat gender-based violence. Now we are also trying to launch a cellphone app that allows you to find, among other things, centers for HIV testing or contraceptive distribution.
CC: How have you balanced being an opposition figure with being an activist?
PR: I think one of the biggest challenges for politicians and activist is, at least in my country, dialogue. That is why I prioritize the ability to dialogue with all sectors and actors for the sake of better public policy.
CC: What advice would you give to young people interested in entering politics?
PR: I don't think there are many things to say that could animate young people to enter into politics, but I don't think anyone should be afraid of doing so either. We all grow up hearing about big corporations and the media controlling the world, but it is also a political establishment that is not interested in changing its habits. That is why we need young people, to refresh our policy.