Thanksgiving Travel Forecast: Winter Storm Tracker, Flight Delays, and Updates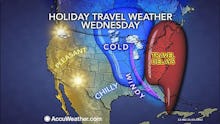 Thanksgiving travel plans are under attack, thanks to a sweeping Nor'easter that appears to be set to pound the East Coast on Wednesday evening, threatening to create a nightmare for as many as 43.4 million travelers during the holiday weekend.
Torrential rain will begin inundating the South on Tuesday and spread north through the Carolinas onto the Northeast's 1-95 corridor until Wednesday, setting a bad omen and worse weather conditions for those traveling to, from, or between Washington, D.C., Philadelphia, New York City, and Boston.
Snow won't be an issue for those closer to the coast, but Accuweather Senior Meteorologist Alex Sonowski said that rain "would be enough to slow travel on the highways and delay a number of flights … Gusty winds would also factor in to delays along the coast." Rain will be heavy and wind-driven enough to create substantial slippage and visibility issues for drivers, and may cause flash or urban flooding. Coastal areas in New England could also flood.
But a moderate amount of snow will still be coming in, mainly across Northwestern Pennsylvania and Western New York. The worst snow will be focused around Syracuse, New York, and Montreal, Canada, and will be intense enough to affect travel conditions. Syracuse will get up to a foot of snow, while Pittsburgh will take in eight inches.
This is more unlucky news in an already-bad winter storm situation across the United States. In Utah and Colorado, mountain storms have already taken 13 lives, including an icy rollover crash in New Mexico which killed a four-year-old girl.
"This is a lethal combination for winter weather in the Northeast," said the Weather Channel's Tom Niziol.
According to Weather Channel lead meteorologist Kevin Roth, "If people traveling can get out before then, or wait until afterward, that would be the best thing."