Bill de Blasio's Transition Team is Far from Radical, Despite What You've Heard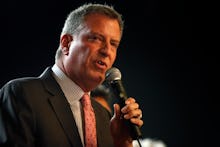 New York City's Mayor-Elect Bill de Blasio is coming under fire for not including Catholic clergy in his transition team, despite already having two rabbis, two Protestant ministers, and an imam set to help him select his administration. 
But how much religion does de Blasio really need? The guy is planning to run a government, not shepherd Noah's Ark.
"Catholics are the majority of New Yorkers, over 50 % are Catholic yet we get no representation," Bill Donohue, president of the Catholic League for Religious and Civil Rights, told CBS New York. Right, because step one in running a successful city government is having proper religious representation.
Donohue is also unhappy with several current members of de Blasio's transition team, including Ford Foundation president Darren Walker (whose organization elected Cecile Richards, president of Planned Parenthood, to its board of trustees in 2010) and Brooklyn Museum of Art Director Arnold Lehman (who booked the controversial art exhibit Sensation in 1999, featuring a portrait of the Virgin Mary decorated with elephant dung) for having an anti-Catholic bias.
He's not the first to criticize de Blasio's new transition team of 60 business, labor, and nonprofit leaders for being too left-leaning or too different from Michael Bloomberg's elite choices during his own transition.
But it's pretty much the same. Back in 2001, Bloomberg's 56-person team — a much larger group than his predecessor Rudy Giuliani had — drew heavily on corporate leaders such as Kenneth Chenault, CEO of American Express and Michael Finnegan, managing director at J.P. Morgan. But it also included Bonnie Wong, founder and president of Asian Women in Business, and Randi Weingarten, president of the United Federation of Teachers. The New York Daily News called it a "who's who of New York spanning the political spectrum, from the president of a conservative think tank to the chief of a gay rights group." The New York Times said the group was a "deliberately diverse assembly of New Yorkers."
Bill de Blasio's team has big names like Tim Armstrong, chairman and CEO of AOL, MaryAnne Gilmartin, president of Forest City Ratner Companies, and Peter Madonia, Bloomberg's former chief of staff and current COO of the Rockefeller Foundation. It's not really the radical shift to the left everyone was expecting. And given de Blasio's big talk of "the tale of two cities" and creating more affordable housing, his team lacks public housing experts and members in lower-level positions.
Even so, de Blasio's transition team is far less important than the appointments to his administration — the people who will actually run the city. In 2001, Bloomberg had picked out his entire set of deputy mayors and police commissioner Ray Kelly by Jan. 1. In contrast, de Blasio is moving at a slower pace and seems to be in no rush to fill all positions by his inauguration.
Former police commissioner Bill Bratton is a favorite to replace current commissioner Ray Kelly. Even though de Blasio once faced criticism from Republican opponent Joe Lhota for wanting to revert New York City to the era of David Dinkins, getting rid of Kelly, who became policy comissioner during the Dinkins administration, would actually be a step in the opposite direction
A possible choice for school chancellor is Kaya Henderson, the current chancellor of the D.C. public school system, according to the New York Daily News. Her education reform philosophy, like Bloomberg's, centers on a rigorous teacher evaluation system. That choice might sit well with members of the transition team, like Zakiyah Ansari, Advocacy Director of the Alliance for Quality Education, who have openly criticized Bloomberg's education policies.
Many other key appointments have yet to be revealed, and it looks like de Blasio is taking the safe route — as any new mayor would. The transition team has more cultural and social advocacy leaders than Bloomberg's did in 2001, but de Blasio has just enough seasoned corporate heads to ease any anxiety of a real, radical-leftist revolution.