Will Gas Prices Fall After the Iran Nuclear Deal?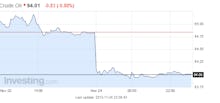 The news: On the heels of a groundbreaking deal with Iran to ease international sanctions in exchange for significant concessions on its nuclear program, oil prices have begun falling on the international market.
Brent crude fell by 2%, or $2.42 to $108.63 per barrel, while U.S. light sweet crude fell by $0.84, to $93.64 per barrel.
Companies which use large amounts of fuel, such as airlines, took a jump as a result. International Airlines group was up 2.87% in lunchtime trading, while Air France KLM rose 3.11% and travel company Thomas Cook lifted 3.68%.
The six-month agreement with Iran proposes $7 billion in relief from foreign sanctions for restrictions on the Iranian nuclear program, which will need to immediately cease enriching uranium beyond 5% (the maximum amount necessary for medical or energy purposes) and begin diluting or converting its entire stockpile of 20%-enriched uranium, which could be further processed to hit the 90% mark necessary to construct a nuclear weapon.
The background: Though Iran holds the fourth-largest oil reserves in the entire globe, sanctions aimed at crippling its ability to maintain a functional economy while it continues to enrich uranium have deeply cut into its exports.
It's hard to understate just how damaging these sanctions have been (click the link for an interactive infographic courtesy of the New York Times). The U.S. has blocked the import of Iranian goods and services since 1987, including oil. United Nations sanctions began in 2006, when Iran was prohibited from trading nuclear materials and financial assets associated with the program and people linked to it were frozen. Financial institutions have been "practically forbidden" from lending money to Iran. And in 2012, the Euopean Union embargoed Iranian oil and ejected Iranian banks from a digital banking system, demolishing the country's ability to conduct international trade. It also froze assets and banned the trade of precious metals.
The impact? In early 2012, Iran was exporting 2.5 million barrels of oil a day, generating 80% of its export revenue and over half of the funds necessary to run the government. Throughout September 2013, though, Iran averaged just 1.1 million barrels a day, and just 715,000 a day in October. Iran's National Iranian Oil Co. is having extreme difficulties selling stock, with the International Energy Agency estimate that it had 37 million barrels of oil stored on tankers waiting to be sold.
Image Credit: BBC / U.S. Energy Information Administration
Embargoes on Iranian oil have driven up world prices, but cut Iranian crude sales by 60% and cost it $80 billion in revenue, according to the White House. The new deal will let Iran sell 1 million barrels a day until the end of the year, still far less than pre-sanction prices but a significant relaxation from the current chokehold.
Will you pay less at the pump? No. It's pretty unlikely you'll notice much of a difference anytime soon.
Barclays Capital oil analyst Helima Croft warned that, "These are baby steps right now. Important baby steps, but whether ultimately you can get Congress to agree to allow Iran to maintain this many capabilities remains to be seen."
Other analysts called the drop in prices "knee-jerk." The EU will continue to ban crude oil imports from Iran, but will ease insurance restrictions which have inhibited exports to Iran's six remaining international customers.
The Barclays report cautioned that "Iran will be challenged to drastically increase its oil exports because of the remaining sanctions and technical challenges restarting shut-in production."
But oil futures in New York have slumped 13% since new Iranian President Hassan Rouhani assumed office on Aug. 1. According to chief market analyst Ric Spooner at CMC Markets in Sydney, "The bigger thing for the oil market in terms of the impact on prices is the longer view that this represents a tangible step toward a more final solution that might ultimately see the sanctions lifted altogether."
But even if sanctions are lifted, Iran faces significant competition on the world market. Saudi Arabia has been pumping near-record rates of 10.2 million barrels a day (down to 9.75 in October), and claims a total production capacity of 12.4 million barrels a day. That's some tough competition.