There Are Plans to Turn Huge Parts Of Detroit Into Farmland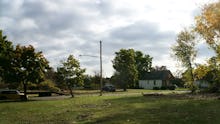 The news: A bankrupt city may soon see its urban decay turned into fertile farmland.
Source: Hantz Woodlands
A private company has purchased nearly 150 acres of Detroit's east side, with plans to repurpose the vacant lots and dilapidated houses into farmland and orchards. 
In an agreement with the city, Hantz Woodlands bought 1,500 land parcels within Detroit, and is committed to "cleaning up the blight." The company bought roughly 150 acres for $500,000 at a per-lot price of $300. Hantz Woodlands will spend the winter clearing the land to prepare for planting in the spring and summer.
The backstory: Detroit is the largest American city ever to file for bankruptcy. Billions of dollars in debt, it is no secret Detroit is in rough shape. The city's houses and buildings are falling apart, abandoned and decayed. Recovery is slow, and relief looks to be far off.
Source: Hantz Woodlands
Why it matters: It's clear something needs to be done to address Detroit's urban blight, but not all agree Hantz Woodlands' plan to turn urban decay into fertile pasture is the best way of doing that.
Professor of Environment Studies at the New School Nevin Cohen says Detroit "needs to figure out its blight problem without hurting the members of its community." The promise of farmland "is not as important as addressing issues of race and class concerns," he said.
It's clear many agree with him. The Hantz Woodlands purchase barely squeaked through Detroit's City Council, passing with a 5-4 vote.
And then there are those who think this is a great idea. Take Spike TV, for example, which is considering the Hantz Woodlands project for a television series. The project is "really making a difference in people's daily lives," says Sean O'Grady, a Los Angeles producer.
If Hantz Woodlands' plan to farm Detroit works, it could end up being a powerful example for all U.S. cities dealing with urban blight. 
Watch John Hantz describe his Detroit farmland project: