The Biggest Superheroes Of 2015 Won't Be White Men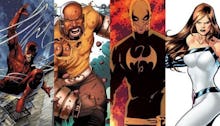 As a follow up to their announcement of a Pakistani-American Ms. Marvel, comics giant Marvel Entertainment recently unveiled plans to expand the visibility of a strikingly diversified band of crime fighters via a four-part mini-series on Netflix. The Netflix-exclusive shows will center on four heroes who, until now, have received significantly less media exposure than have their mainstream counterparts: Luke Cage, Jessica Jones, Daredevil, and Iron Fist. These projects will start in 2015 with Daredevil and culminate in a crossover mini-series featuring all four characters called Defenders.
The diverse group is notable because of its stark — no pun intended, Tony — contrast with Marvel's other massively popular band of superheroes, the Avengers. In contrast with its more homogenous counterpart, the Defenders features a person of color in Luke Cage (Hulk, a former Defender, doesn't count), a married couple via Cage and Jessica Jones, and a man with a disability (Daredevil is blind). Iron Fist, a master martial artist, is also unique his in being a dual citizen with the fictional land of K'un-L'un.
Marvel has tried to give these characters some exposure in the past, but the results were less-than-desirable. Though Daredevil starred in a 2003 movie, it was widely regarded as lackluster compared with other films in the genre. A Luke Cage film starring Jamie Foxx was in the works prior to the actor's Oscar win for Ray, but the project has since been shelved. Iron Fist mostly appears only in Marvel video games, and networks passed on a Jessica Jones television pilot.
Whereas past projects failed, the new series have a real chance to succeed. Marvel's announcement comes at a time when it's easier than ever for content creators to interact with their audiences. The internet has made these characters accessible to a wider audience than ever before, inspiring fans from all walks of life. Having a more diverse group of superheroes in the public eye shows that more than just the mild-mannered white man can save the world. Because past projects have yet to come to fruition, the development of a Defenders series comes as a great gift to an eager fandom.
Despite the good news, however, at least one question remains: Why Netflix? Although Netflix is increasingly popular among millennials, it still provides for a relatively niche audience, as it is a paid service. Perhaps Marvel is leery about the Defenders' success, given the relatively obscure status held by its heroes. Perhaps it's testing the waters before scheduling an even wider release in theaters. Whatever the case, fans will still have to wait for another year or so for the start of the Defenders' stories. In the meantime, let's just hope that the writers will finally do these important characters justice.