Black Friday History: The Story Behind the Mad Dash For Stuff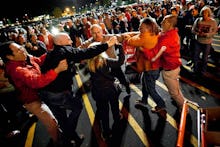 Among all the autumn decorations, days of cooking preparations, and children's turkey art stuck to the fridge, Thanksgiving remains the ultimate consumer holiday. After all 18 hours of thankfulness, 89 million people will leave the table to gorge on discount deals and holiday shopping during the bargain-basement, terror-inducing day known as Black Friday. Just as Memorial Day marks the unofficial start of summer, Thanksgiving and Black Friday have become the unofficial harbingers of the holiday shopping season.
In a weird way, Black Friday is actually it's own historic artifact, and over the years has snowballed into an American tradition that has come to define our commercial world . Way back when, Macy's, one of the largest American department stores, helped begin the tradition with their first Thanksgiving Day Parade, essentially a three-hour ad, in New York City in 1924.
That seasonal buzz created what is now up to 20% to 40% of a retailer's annual revenue between November and December, giving Black Friday its name. The term itself actually came a little later in the century, in 1961, when folks in Philadelphia were trying to describe the infuriating and disruptive pedestrian and vehicle traffic the day after Thanksgiving.
But where does Black Friday likely come from? Back when accounting records were still handwritten, red ink would signify stores losses, while black ink meant profit. A profitable company was (and still is) "in the black." For every family that forgets to bring something to the holiday party and buys it on the way, more money goes into the commercial pot of about $600 billion in retail sales, which can quickly turn a red year into black-colored dollar signs. For notorious chains like Walmart, Black Friday has proven to boost their annual net profits from $14 billion to $19 billion.
Of course, if you owned a store, what would be the first thing you would do to extend the addictive shopping sprees? Make them longer. For decades, retailers like Target, Macy's, and Best Buy, would open at 6 a.m. to appease the crowds, but once the country hit the late 2000s, those times moved even earlier, to 4 or 5 a.m. Walmart even began opening their stores at 8 p.m. on Thanksgiving day, which contributed to even more aggressive and violent crowds and, in states without blue laws (laws prohibiting stores from opening Thanksgiving day), complete walkouts ensued from workers — all, of course, in the name of getting your hands on the TV with the best discount first.
Yet, people are beginning to reject the notion of standing out in the cold and vicious crowds for something they can now order online just as quickly. Flat screen TVs have always been the countrys favorite to go out and buy, but those and other tech gadgets like laptops, cameras, and cell phones can just as easily be added to the Thanksgiving wishlist from the comfort of your own home. As accessibility and speed of shipping continue to improve at an exponential rate, we may very well see the online Black Friday buzz surpass the real world market fanaticism since deals and item details are often discovered or posted online before the store even releases the information. That being said, the impact of Black Friday is far from shrinking; the National Retail Federation anticipates 134 million people will go shopping this  Thanksgiving weekend. And, if thereis one thing to be thankful for, its for the extra security to avoid the all too predictable shopping- related violence.
The term Black Friday itself was originally used to describe something else entirely — the Sept. 24, 1864, stock-market panic set off by plunging gold prices. Newspapers in Philadelphia reappropriated the phrase in the late 1960s, using it to describe the rush of crowds at stores. The justification came later, tied to accounting balance sheets where black ink would represent a profit. Many see Black Friday as the day retailers go into the black or show a profit for the first time in a given year. The term stuck and spread, and by the 1990s Black Friday became an unofficial retail holiday nationwide. Since 2002, Black Friday has been the season's biggest shopping day each year (except in 2004), according to market-research firm ShopperTrak.
Nevertheless, retailers continue to tie one-day in-store sales to Black Friday. In the internet era, bloggers race to obtain leaked circulars and post them online weeks in advance of Thanksgiving. Many forums and websites track the deals, helping shoppers make a plan of attack for the big day. Attack they will — the National Retail Federation anticipates 134 million people will hit the stores on Thanksgiving weekend. And if you're one of them, you might want to consider wearing a helmet.