2014 Will Be the Year Of the Female Rapper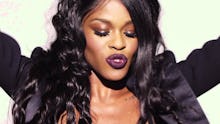 Miss Lauryn Hill returned to the mic for her first post-incarceration concert at the Bowery Ballroom in New York City on Thanksgiving Eve. She is now kicking into a quick month and half tour before her court-mandated house arrest begins in January, when she will presumably start making good on the promises outlined in her new Sony contract to bring the people an album in late 2014. Hill's re-debut will add to the other three major female rap debuts that failed to drop this year — Azealia Banks' Broke with Expensive Taste, Iggy Azalea's The New Classic, and Angel Haze's Dirty Gold. Nicki Minaj may also drop something getting back to her "hip hop roots," and Missy Elliot's Block Party is always a fun question (we've been waiting since 2007, but maybe this year?). Whether its six or four major label releases, 2014 will be the Year of the Female Rapper.
Female MCs are experiencing a burst in popularity because they remain slightly outside of the hip hop mainstream, and therefore still have unique stories to tell. All hip hop used to thrive off its cultural marginalization; MCs took advantage of the "otherness" of rap to capture a real revolutionary spirit and craft provocative personas. However, now that rap has moved to the very forefront of pop culture, its stories about getting over and earning respect against all odds have become paltry and standardized. Female rappers are still looking in at this mainstream success from the margins, and are therefore in the best position to use this hip hop "otherness" to add impact to their narratives.
So far this hasn't exactly panned out in the mainstream. To succeed, the majority of female MCs have had to polarize themselves by either adopting the masculine thug mentality that is the dominate mode in hip hop (eg. Lady Rage), or by going the hyper-sexualized and commodified route of the female pop star (Lil Kim and "Starships" Nicki Minaj).
Latoya Peterson of Racialicious quotes from Menda Francois' thesis to describe the movements of women in rap: "[W]hen a femcee is not performing the role of the sexually available coquette nor the female thug, her power and agency are non-existent." Sex and violence sell across all genres and art forms, but because female rap albums suffer from historically erratic sales, it is even more necessary that popular femcees assume these roles to sell records. As such, a lot of the female experience has been misrepresented in hip hop.
Many of next year's major releases are set to break the black/white mold of the coquette/thug by bringing back that soulful feminine identity that disappeared with Lauryn and Missy. The fact that there is a mold to break will allow these femcees to evoke that true hip hop rebel spirit, which will give their verses some real consequence.
1. Azealia Banks - 'Broke With Expensive Taste'
Broke With Expensive Taste was supposed to have a September 2013 release, but was pushed back to January 2014, due to a sample clearance issue and a "flopped" single. Banks scrapped tracks and rewrote a lot of the album. The mermaid-couture fashionista's music is energetic, bubbly and confrontational. She makes habitual use of the word "cunt" — a word that rarely appears in most rap, despite infinite examples of every other curse. She explained her use of the word to Rolling Stone:
"Well, I'm from Harlem. I went to art school; I grew up with the cunts. And that term doesn't come from me! People think I invented it, but I didn't. To be cunty is to be feminine and to be, like, aware of yourself. Nobody's fucking with that inner strength and delicateness. The cunts, the gay men, adore that ... You need your cunts ... They give you confidence and give you life."
Banks uses the word to provide a new voice for strong females, gays, and bisexuals — groups that are frequently overlooked by mainstream culture. This harkens back to hip hop's original purpose: giving a voice to the voiceless.
2. Iggy Azalea - 'The New Classic'
There is more at stake in Iggy Azalea's come-up story "Work" than there is in nearly every other trap-rap faux-gangster's currently clogging up the hip hop mainstream:
"White chick on that Pac shit
Iggy's story — escaping the Australian boonies to face exploitative record execs that doubted a white female rapper could hit — is a unique struggle that adds new scenes to the "started from the bottom" narrative. Her current label Island/Def Jam is still being extremely careful in managing her debut, their fear probably stemming from last year's Kreayshawn flop.
3. Angel Haze - 'Dirty Gold'
The stories Angel Haze rapped on last year's Classick mixtape turned heads all the way around. She rhymed over Eminem's "Cleaning Out My Closet" beat and spoke unflinchingly about the sexual abuse she suffered as a child, describing the devastating effects they had on her psyche:
"Then I grew up and I wasn't within the reach of these men
The identity Angel Haze has created is nowhere close to the glossy "female thug" or cheap "sexual coquette." That song and album deliver hard-hitting truths on some of the more tragic aspects of the female experience, which makes for some incredibly gripping and empowering music.
4. Lauryn Hill - TBD
Hill's obvious motivation for returning to music is to cash in her on complex legacy to pay off all the back taxes she owes. Hopefully, she is feeling a real creative fire, and not just working off the fumes of anger and desperation. That philosophic punk she captured on her most recent "Consumerism" marked a sharp departure from her sultry and beautiful Miseducation. This is a good sign. Truly inspired artists never stay still. If her upcoming album continues down this radical path, it will defy conventions of mainstream hip hop and expand the identity of the female MC greatly, adding visionary madwoman intellectual to the list of her possible roles.