11 Charts Show How Thanksgiving Celebrations Differ Across the U.S.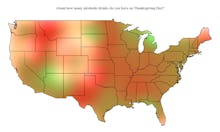 Are you planning on getting pretty boozey this Thanksgiving? Will you be eating white meat or dark meat? Will you be one of the 1% of Americans who eat oysters instead of Turkey?
It depends on where you live, and these charts show you who different parts of the country celebrate Thanksgiving differently.
You may not think of Thanksgiving as eBay's strong suit, but this year, the online auction company has outdone itself. Its Deals blog conducted a 15,000-person survey into Americans' Turkey Day habits, and posted a slew of autumnal visualizations and surprising results.
While you patiently wait for your turkey to defrost, it's worth taking a moment to explore some of eBay's finest findings. (The full results can be found here.) 
1. People in Michigan, the Dakotas, and the Southwest are planning on drinking.
According to the survey, most people intend to stay sober or indulge in one or two alcoholic beverages, but 4% of Americans plan on chugging seven or more Thanksgiving drinks.
2. Most people will be sitting down to a midday meal.
3. Our country is divided in more ways than one.
Much as the country is politically polarized between Democrats and Republicans, support for a number of controversial Thanksgiving practices is evenly divided. Take, for instance, these charts on turkey brining, dressing up, and talking about the history behind the gluttonous holiday.
4. Half of Americans will do Black Friday shopping on Thanksgiving itself.
Even though there's a better way.
5. Not everyone is grateful.
People in northwestern Montana and the Texas and Oklahoma panhandles either don't have anything to be thankful for, or won the lottery and are keeping it to themselves.
6. Some people think that stuffing is called "dressing" or "filling."
It takes all kinds, I guess. 
7. More people like white meat than dark meat.
I can't say I agree, but it works out in my favor.
8. Most cornbread stuffing can be found in the South.
9. 1% of Americans eat oysters for Thanksgiving.
You can probably guess which 1% it is.
10. Almost 5% of people won't be doing any cooking at all
11. And finally, pie is delicious, no matter what kind it is.
Even if it's "other."