8 Powerful Photos Show a Very Human Side of Palestine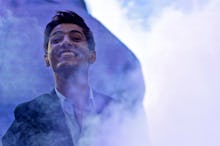 Mohammad Assaf, this year's Palestinian winner of Arab Idol sang at the United Nations Monday, in honor of the International Day of Solidarity with the Palestinian People.
Earlier this year, his journey through the competition, and beautiful singing voice captivated not only the Arab world, but also made headlines abroad. For Palestinians around the world, he offered not only beautiful singing, but also a much-needed break from the media's usually stereotype-filled coverage. 
On Tuesday, United Nations officials declared 2014 as the International Year of Solidarity with the Palestinian People, stressing the importance of resumed peace talks toward a two-state solution. The resolution was passed on the International Day of Solidarity with the Palestinian People which is usually observed on Nov. 29, the anniversary of the 1947 "Partition Plan" which divided then-mandated Palestine between Jews and Arabs.
"We cannot afford to lose the current moment of opportunity," Secretary-General Ban Ki-moon said in a statement. "I ask all in the international community to work together to translate the solidarity expressed on this occasion into positive action for peace and justice."
Often depicting the conflict and occupation in a purely political context, the media does not usually highlight the men, women and children who try to live their daily lives amid the predictions, advice and punditry about their problems in a country that was recognized only last year as a non-permanent state at the UN.
Similar to the "Humans of Tehran" photography project founded in 2011, the "Humans of Palestine" project also aims to capture and portray ordinary people living in Palestine that encourages us to think differently, move beyond the stereotypes and see Palestinians outside of mainstream media's vision.
It might seem silly to have to point out that Palestinians are just like anyone else, but it's that connection that offers a more human understanding of a conflict.
"Mention Palestine and the first thing that pops to mind is the never-ending conflict between Palestine and Israel," writes Rana Abdulla, a Palestinian-Canadian writer and activist, originally from the Palestinian village of Balaa near Tulkarem. "The simple truth is that the Palestinian people are a normal people with normal aspirations."
Here's a side to Palestinians that you won't see in the media:
1. Parkour is also a thing in Palestine.
A creative athletic discipline, parkour is a form of individual expression through acrobatic moves, scaling of obstacles and barriers through running, precision jumping, and vaulting. It's a non-competitive sport, that is also making waves here in the United States.
"When we practice [parkour] we free ourselves," said Mohammed, a practitioner of parkour in the Khan Younis refugee camp in Gaza. "It is as if we're transported to another world."
2. So are breakdancers.
"We have a dream," said Mohammed al-Ghrize, also known as "Funk," who brought the Camps Breakerz together, "that one day we will have our own center where we can teach children to break dance and give them a stage to express their feelings."
3. And a thriving rap and hip-hop scene.
"Rap is CNN for us, the Palestinian people," said Tamer Nafar, lead singer of the Palestinian hip-hop group DAM. "In every village, in every town, in every city — in Israel, Gaza, the West Bank — people are doing hip-hop."
4. And aspiring models.
According to 27-year-old entrepreneur Tamer Halabi, who opened Modelicious Agency, the first modeling agency in the West Bank, there is a huge demand for trained models from fashion shops and local designers to advertise their creations. 
5. And fashion shows.
"We want to show the world that we can host a fashion week. We have talents and are able to live just like people abroad," said Halabi, who is one of the event's organizers. "The political problems have existed for a long time, but that doesn't mean we shouldn't have a life."
6. And beer.
Thousands of people flock to the Christian town of Taybeh every year to celebrate Oktoberfest, where they imbibe the only locally-brewed beer that literally means "delicious" in Arabic. The town is also home to the only brewery in the Palestinian territories for almost 20 years.
Attracting people from around the world, the beer festival is filled with stalls and long lines outside booths waiting for Taybeh beer, delicious kabobs and grilled food, crafts, cakes, and a stage for live shows.
7. And circuses.
"Thanks to our friends and supporters, we staged the first ever presentation of 'Circus behind the Wall' in Ramallah in 2006, portraying Palestinian life under occupation, which is part of our daily life," said Shadi Zmorrod, founder and general manager of the Palestinian Circus School. "Palestinians were surprised as circus was a new art form. When we took the circus to Hebron and Jenin, we learnt that we could use it as a social tool to make a difference in people's lives. That led to the evolution of mobile circus schools in the summer, in towns all over the West Bank, breaking borders, crossing checkpoints and sharing talents with all Palestinians."
8. And hip coffee shops.
Catering to a growing population of NGO workers, diplomats, youth, and wealthy middle-class Palestinians, more than 120 coffee shops, 300 restaurants, and 50 diners opened in Ramallah and Al-Bireh in 2010 alone, according to the Jerusalem Post.