These Brave Activists Won't Rest Until Violence Against Women is History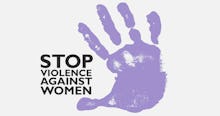 According to the World Heath Organization (WHO), at least one in three women has been beaten, coerced into sex, or otherwise abused in her lifetime.
But there are people working to change that. Currently, feminist activists around the world are raising awareness around violence against women for the annual 16 Days of Activism Against Gender-Based Violence Campaign.
The campaign kicked off on November 25. One crucial part of this campaign, is the International Women Human Rights Defenders (WHRD) Day, which celebrates the brave women around the world who promote women's rights and gender equality, often at the expense of their own safety.
Below are the profiles of just a few of these women.
Jessica Lenahan (United States)
© Vimeo. Image from forthcoming Documentary: Domestic Violence and Human Rights: Jessica Lenahan v. the United States of America
Lenahan is a WHRD and a survivor of heartbreaking domestic violence. In 1999, her three young daughters were abducted by her estranged husband, against whom she had a restraining order. For hours, Lenahan repeatedly called the police in Castle Rock, Colo. for assistance, but they were dismissed her. Lenahan's estranged husband eventually drove to the police station and began shooting; officers returned fire and killed him. The bodies of her daughters were discovered in his truck, but authorities failed to conduct a proper investigation into their deaths.
Almost 15 years later, she is still waiting for answers. Lenahan filed a federal civil rights suit against the Castle Rock police, and in 2011, the Inter-American Commission for Human Rights (IACHR) found the U.S. responsible for human rights violations against Lenahan and her girls. The government has yet to fully implement the recommendations of the IACHR, including greater law enforcement accountability in cases of violence against women.
Lenahan has taken part in several meetings with the U.S. Department of Justice, urging a formalization of guidelines on gender-biased policing, but such guidelines still await publication. Additionally, instead of receiving the recognition and protection she deserves, she has suffered stigmatization from her community.
As a Latina and Native American woman, Lenahan's goal is to open a domestic violence prevention and healing center for Native American women. 
Bernedette Muthien (South Africa) 
© YouTube
Muthien is a scholar, poet, and activist. She co-founded and directed Engender, an organization based in South Africa, which works in the intersectional areas of gender, human rights, justice, and peace.
In the past, Engender has held workshops presenting alternatives to violence and drawing on ancient indigenous cultures. The organization has educated service providers and community leaders, providing practical tools and perspective that can help individuals break the pattern of violence in their lives. Muthien has also organized a self-defense workshop called: Strength from Within: Aikido for Women.
Helen Mack (Guatemala)
© Nobel Women's Initiative
Mack is the founder and president of the Myrna Mack Foundation, an organization dedicated to challenging the culture of impunity within the Guatemalan military and seeking justice for survivors of human rights abuses. 
In 1990, Mack's sister Myrna was assassinated by the Guatemalan military, but authorities reported her cause of death as a traffic accident. Myrna's assassination led Mack to become a human rights activist to seek justice for her sister and others.
Mack set legal precedent in 1991 by initiating the first judicial process against high-ranking members of the Guatemalan Army. More than a decade later, she achieved a groundbreaking victory when the Guatemalan government acknowledged responsibility for Myrna's death and the primary author of the crime was convicted.
Mack's victory led the way for those trying to bring justice for victims of Guatemala's genocide, many of whom were indigenous people. Earlier this year, former President Efrain Rios Montt was convicted of genocide and sentenced to 80 years in prison. The trial included the testimony of many brave indigenous women who were sexually assaulted. Though Rios Montt's sentence was annulled and the trial is expected to resume in 2015, Mack remains hopeful that the indigenous people's voices will be heard and justice will be served. 
Hania Moheeb (Egypt)
© YouTube
Moheeb is a journalist who turned activist after her own sexual assault. On the second anniversary of Egypt's revolution in January 2013, she attended a demonstration in Tahrir Square. She was protesting against worsening oppression and gender-based discrimination under the Muslim Brotherhood government. A group of men surrounded her and sexually assaulted her in a planned attack that prevented bystanders from intervening. That night, 19 similar incidents were reported from Tahrir Square. Moheeb survived and vowed to seek justice for herself and the other women.
The use of politically motivated sexual assault against women has gained momentum in the post-Mubarak Egypt. Groups of perpetrators systematically attack women participating in public political arenas with the intent to instill fear. A recent report found that Egypt is the worst country in the Arab world for women. 
Despite the growing risks against outspoken women in Egypt, Moheeb has refused to be silent and has gone on national television to tell her story. 
Julienne Lusenge (Democratic Republic of Congo)
© Radio Okapi
Lusenge is the President of Female Solidarity for Integrated Peace and Development (SOFEPADI), a coalition of women's rights organizations in the Democratic Republic of Congo (DRC) that provides support to survivors of sexual violence 
Lusenge became an activist in 1998 after witnessing members of armed groups raping and brutalizing women in her community. She began documenting the cases of abuse and condemned the leaders of the armed groups.  
Women remain the targets of systemic sexual violence in the DRC, a region plagued by two decades of on-again-off-again fighting. It is estimated that 48 women are raped there every hour.
To make matters worse, communities often disown and shun survivors of rape and sexual violence. SOFEPADI actively promotes acceptance and reintegration of survivors into their communities — providing them with much needed psychological and emotional support.
Lusenge's life has been threatened for her efforts to create visibility and pressure international bodies to act against sexual violence in the DRC.
Defending the Defenders
The work of these WHRDs causes them to face imminent threats of violence, and they need protections to do their work. As the UN Special Rapporteur on the Situation of Human Rights Defenders has explained: "Women defenders are more at risk of suffering certain forms of violence and other violations, prejudice, exclusion, and repudiation than their male counterparts."
Just before 10 p.m. on Wednesday night, the UN General Assembly passed the first ever resolution for the protection of Women Human Rights Defenders. Still, it is regrettable that this consensus excluded language calling on states to condemn all forms of violence against women and women human rights defenders.
To learn more about other WHRDs, check out the Nobel Women's Initiative 16 Activists during 16 Days, JASS's Women Crossing the Line, the East and Horn of Africa Human Rights Defenders Project campaign, and WITNESS's new blog series and videos. And if you are looking to get involved, check out these suggested ideas for ways you can take action throughout the 16 Days of Activism Against Gender Based Violence.
Special thanks to the Nobel Women's Initiative for partnering and providing some profile content.