The 50 Most Deadly Cities in the World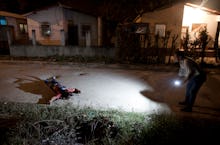 A toxic combination of organized crime, drug trafficking, internecine gang wars, government corruption, and desperate poverty have merged to form the world's most brutal, murderous region: Latin America.
According to the UN via Business Insider, Latin America now boasts 28% of the world's homicides despite clocking in at only 8% of world population. The most murderous city on the entire planet, San Pedro Sula in Honduras, now has over 169 homicides per 100,000 residents. Unlike every other city in the rankings except for Distrito Central (which came in at #4), that number is based on 2011 statistics, because local authorities were unwilling to cooperate with the study, which was conducted by Mexico's Citizens' Council for Public Security and Criminal Justice.
Statistics do not include war zones or areas where the murder rate is not reported by the authorities.
More: Some U.S. Cities Have Higher Gun Violence Than ENTIRE Nations — Check This Map
Of the 50 cities on the list, 41 are in Latin America. And some U.S. cities also rank as among the most murderous metro areas in the world: five American cities made the list. They're in bold below.
Here are the rankings:
50. Barranquilla, Colombia: 29.41 homicides per 100,000 residents
49. Brasilia, Brazil: 29.73 homicides per 100,000 residents
48. Belo Horizonte, Brazil: 29.74 homicides per 100,000 residents
47. Monterrey, Mexico: 30.85 homicides per 100,000 residents
46. Durban, South Africa: 30.94 homicides per 100,000 residents
45. Macapá, Brazil: 32.06 homicides per 100,000 residents
44. San Salvador, El Salvador: 32.48 homicides per 100,000 residents
43. Oakland, United States: 33.10 homicides per 100,000 residents
42. Curitiba, Brazil: 34.08 homicides per 100,000 residents
41. Baltimore, United States: 35.03 homicides per 100,000 residents
40. St. Louis, United States: 35.39 homicides per 100,000 residents
39. Maracaibo, Venezuela: 35.44 homicides per 100,000 residents
38. Nelson Mandela Bay, South Africa: 36.02 homicides per 100,000 residents
37. Pereira, Colombia: 36.13 homicides per 100,000 residents
36. Victoria, Mexico: 37.78 homicides per 100,000 residents
35. Port-Au-Prince, Haiti: 40.10 homicides per 100,000 residents
34. Goiânia, Brazil: 42.01 homicides per 100,000 residents
33. San Juan, Puerto Rico: 43.25 homicides per 100,000 residents
32. Chihuahua, Mexico: 43.49 homicides per 100,000 residents
31. Valencia, Venezuela: 43.87 homicides per 100,000 residents
30. Recife, Brazil: 44.54 homicides per 100,000 residents
29. Santa Marta, Colombia: 45.26 homicides per 100,000 residents
28. Cuiabá, Brazil: 45.28 homicides per 100,000 residents
27. Cape Town, South Africa: 46.04 homicides per 100,000 residents
26. Belém, Brazil: 48.23 homicides per 100,000 residents
25. Kingston, Jamaica: 48.48 homicides per 100,000 residents
24. Medellin, Colombia: 49.10 homicides per 100,000 residents
23. Sao Luis, Brazil: 50.16 homicides per 100,000 residents
22. Cucuta, Colombia: 53.29 homicides per 100,000 residents
21. Detroit, United States: 54.63 homicides per 100,000 residents
20. Ciudad Guayana, Venezuela: 55.03 homicides per 100,000 residents
19. Juarez, Mexico: 55.91 homicides per 100,000 residents
18. Cuernavaca, Mexico: 56.08 homicides per 100,000 residents
17. New Orleans, United States: 56.13 homicides per 100,000 residents
16. Vitoria, Brazil: 60.40 homicides per 100,000 residents
15. Culiacán, Mexico: 62.06 homicides per 100,000 residents
14. Salvador (and RMS), Brazil: 65.64 homicides per 100,000 residents
13. Fortaleza, Brazil: 66.39 homicides per 100,000 residents
12. Guatemala, Guatemala: 67.36 homicides per 100,000 residents
11. Manaus, Brazil: 70.37 homicides per 100,000 residents
10. João Pessoa, Brazil: 71.59 homicides per 100,000 residents
9. Barquisimeto, Venezuela: 71.74 homicides per 100,000 residents
8. Nuevo Laredo, Mexico: 72.85 homicides per 100,000 residents
7. Cali, Colombia: 79.27 homicides per 100,000 residents
6. Maceió, Brazil: 85.88 homicides per 100,000 residents
5. Torreón, Mexico: 94.72 homicides per 100,000 residents
4. Distrito Central, Honduras: 101.99 homicides per 100,000 residents
3. Caracas, Venezuela: 118.89 homicides per 100,000 residents
2. Acapulco, Mexico: 142.88 homicides per 100,000 residents
1. San Pedro Sula, Honduras: 169.30 homicides per 100,000 residents
(Update: This story previously cited Business Insider as the source of a statistic that Latin America commits 40% of reported world homicides. That statistic was from several years ago and the story has been updated accordingly.)