These Are the 20 Most Shared Ads Of 2013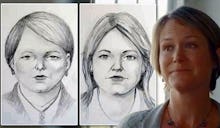 Here's the most-shared ad of 2013: a three-minute video from Dove that sought to make women realize they're prettier than they thought.
Recent data from Unruly Media ranked the 20 most-shared ads of 2013, with ad agency Ogilvy Mather's ad "Dove Beauty Sketches" produced for Unilever coming in at the top of the aptly named 2013 Top 20 Global Social Video Ads Chart. So far that ad has accumulated an astonishing 4.24 million shares across Facebook, Twitter, and blogs since being released in April, putting it nearly a quarter million ahead of GEICO's "Hump Day" promotion, which got 4.03 million shares. It's apparently also the most-viewed web video ad of all time.
Other big winners included ads from Evian, Kmart, Budweiser, Pepsi, and Rockstar Games.
According to U.S. President of Unruly Richard Kosinski:
"Shares are the currency of social success and for leading brand marketers discovering how to create and distribute highly shareable content repeatedly and at scale is now at the top of their wish list. Marketers are challenging the value of a view and instead are focusing on creating content and distribution strategies which drive deeper levels of engagement, such as sharing, data capture, brand uplift or online purchases. Dove Real Beauty Sketches is a great example, as the ad that not only elicits strong emotions from consumers, but also gives its viewers a strong reason to share it within their social networks."
So that explains why people are sharing commercials, I guess. In our advanced capitalist society, advertisers are getting better and better at seeing what makes people click - and for the most part, the beneficiaries of these ad techniques seem to be massive corporations. It's fascinating, but a little creepy, and speaks a lot to the way the power structures of American culture, social media, and consumerism are organized.
It also explains why many of the ads seem to have so little to do with the actual product they're advertising. You only ever actually see a Budweiser for a second or two in their most-shared ad, and Pepsi Max's ad is really just a sponsored prank. It's ingenious. People who normally would scoff and turn up their noses at sharing an ad are, more or less, being tricked into sharing commerical content - a major coup on the part of marketers and signaling the evolution of traditional advertising in the days of AdBlock, ad-free streaming services, and turning the channel during commercials.
The top 20 ads are below:
1. Dove Beauty Sketches, 4.24 Million Shares
2. GEICO: Hump Day, 4.03 Million Shares
3. Evian: Baby and Me, 3.05 Million Shares
4. Kmart: Ship My Pants, 3.05 Million Shares
Okay, this is clever.
5. Cornetto: Yalin, 2.91 Million Shares
6. Budweiser: Brotherhood, 2.7 Million Shares
7. Pepsi Max: Test Drive, 2.69 Million Shares
8. MGM/Carrie: Telekinetic Coffee Shop Surprise, 2.17 Million Shares
YIKES.
9. Ram Trucks: Farmer, 1.88 Million Shares
10. Volvo: The Epic Spirit, 1.82 Million Shares
11. Neft Vodka: Biting Elbows, 1.35 Million Shares
12. Truemove: Giving, 1.26 Million
13. Poopourri: Girls Don't Poop, 1.24 Million
14. GoPro: Fireman Saves Kitten, 1.23 Million Shares
15. Phonebloks: Phonebloks, 1.08 Million Shares
16. Three: The Pony #DancePonyDance, 1.06 Million Shares
17. H&M: David Beckham, 928,000 Shares
18. Rockstar: Grand Theft Auto V Gameplay, 841,000 Shares
19. Sony: Playstation 4 Used Game Instructional Video, 764,000 Shares
This wasn't just a smart ad, it was quickly produced to embarrass its primary competitor - the Xbox One, which at the time, lacked the capability to share used games.
20. Code.org: What Most Schools Don't Teach, 754,000 Shares