Why the Best Player in the NBA Isn't the Most Valuable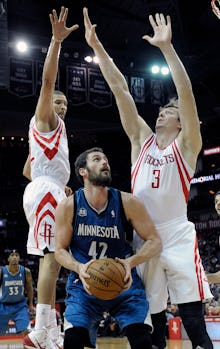 The Minnesota Timberwolves have endured some very lean years. From 2009 to 2013, their combined record was 89-223. Even with Kevin Love, one of the league's most dominant centers, there wasn't much to cheer about in Minnesota.
But this season, Love and the Wolves are sitting at 9-10 as of Dec. 2 and are turning into one of the best offensive teams in the NBA, ranking near the top in most criteria for offensive play. This year's team is third in the league in points scored and has scored almost five more points a game than their opponents, showing that they are routinely playing better than before.
What's the difference this year? It's Kevin Love, just not the same Kevin Love from all of those horrid teams. This year's Kevin Love doesn't look like he's going to miss 64 of 82 games like last season. This year's Kevin Love is averaging 25 points, 14 rebounds, and 4.5 assists. The stats are phenomenal, and his team is winning games. Add it up, and Kevin Love is looking like an NBA MVP. Ask some fans, however, and they'll disagree.
As great a player as Kevin Love has been, his game isn't as flashy as most MVP candidates. There is no Kevin Love shoe line, and you don't see him in many marketing campaigns, either. Meanwhile, Blake Griffin, a flashier player, hits your television screen in Kia ads routinely and even has a Tyga music video built off footage of his dunks. As entertaining as he is, though, Griffin is not exactly a player you can build a winning team around.
Yet team players like Love are consistently ignored. Even the most popular NBA video game series, the NBA 2K games, featured a retired Michael Jordan before they featured Love. Other than this one creepy ad for ESPN, Love is not popular off-court. Even now, a player like Derrick Rose, who was actually playing as one of the worst players in the league before he tore his meniscus, dominated the headlines of NBA circles following his injury. Rose is a dynamic point guard that can do amazing things with the ball in his hands. Love, however, is a power forward that doesn't handle the ball like Rose. Yet despite his recent stats, Rose's flashy play earns him broad popularity that is only augmented by the fact that he plays in a large television market like Chicago and not Minnesota like Love.
One measure of this sort of "entertainment factor" is jersey sales. Kevin Love, despite his numbers, does not even rank in the top 15 of jersey sales. That's hard to believe for a player that is fourth in the league in scoring and first in rebounding. But that's not necessarily what this list rewards. It rewards the same sort of spectacle that the MVP award recognizes — in fact, the jersey list includes three players that have six MVPs between them. Metrics like dunk performance actually correspond reasonably well with jersey sales because they measure players that hit high marks on the "entertainment factor" that is crucial to the success of NBA broadcasts. Love does not even make the top 50 of this list, which includes plenty of middling players like JJ Hickson, Miles Plumlee, and Minnesota teammate Corey Brewer.
If Love is not flashy or entertaining, how can he be a legitimate MVP candidate? It's hard to describe to the average basketball fan, let alone someone who doesn't watch sports very closely. Great fundamental play doesn't make the highlight reels or get people talking around the water cooler. When was the last time your co-worker sent you a link to watch how well a player moved without the ball? Love's game doesn't rely on his athleticism. He's a 6'11" white guy that looks like one of the least athletic players in the league. He wins by being smarter and working harder than his opponents.
If the award is truly for the Most Valuable Player and not the Most Entertaining Player, then Love is a clear winner. It can be difficult to vote for a player better known for his epic outlet passes than for high flying dunks. But Love scores, rebounds, and plays the game better than anyone else. You may not see him on television or on the weekly top 10 lists, but that's just not the way he plays. Love controls the game on the floor without relying on flash or flare. Because of his play alone, Love stands out as a clear MVP choice, jersey sales and highlight dunks notwithstanding.