21 Images of Where Children Sleep Around the World Paints a Powerful Picture of Inequality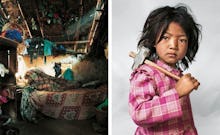 "As a child, that's your little space within the house," said James Mollison, a Kenyan-born, England-raised, Venice-based photographer whose 2011 photo book, Where Children Sleep draws attention to a child's "material and cultural circumstances" and offers a remarkable view on class, poverty, and the diversity of children around the world.
After spending more than three years traveling the world from Senegal to Tokyo, Mollison's series include portraits of children in front of a white background accompanied by a single snapshot of their bedrooms, leaving the later to speak volumes about their the social and cultural circumstances that contribute to their lifestyle.
"I hope the book gives a a glimpse into the lives some children are living in very diverse situations around the world; a chance to reflect on the inequality that exists, and realize just how lucky most of us in the developed world are," said Mollison.
Documenting his series in a book called Where Children Sleep, these striking images range from a mattress outside Rome to a bedroom filled with crowns and sashes. The book was, interestingly enough, written and designed for 9 to 13 year olds to learn about and better understand the diversity and disparity among children in the world. However, it has also proven to be an important photography series for adults. It's not just as an empathy tool; it's an insightful commentary on poverty, privilege, and human rights.
1. Dong, 9, Yunnan, China
Nine-year-old Dong shares a room with his parents, sister and grandfather in the province of Yunnan in southwest China. His family owns just enough land to grown their own rice and sugar cane.
2. Alyssa, 8, Harlan County, USA
Eight-year-old Alyssa lives in a small house in Kentucky, heated only by a wooden stove. Alyssa's father works at Walmart and mother works at McDonald's.
3. Alex, 9, Rio de Janeiro, Brazil
Unable to go to school, Alex spends his days begging on the streets and sleeping on whatever he can find at night — an empty bench, an old sofa, or the pavement.
4. Kaya, 4, Tokyo, Japan
Living with her parents in a small apartment in Tokyo, 4-year-old Kaya's bedroom looks like every little girl's dream room. All of Kaya's dresses are made by her mother — who makes up to three a month — and she has 30 dresses, coats, pairs of shoes, sandals and boots, and multiple wigs.
5. Prena, 14, Kathmandu, Nepal
Prena, a 14-year-old domestic worker in Kathmandu, Nepal works 13-hour days as a domestic worker, earns $6.50 a month, and sleeps in a tiny, cell-like space at the top of her employer's house. She goes to school three times a week and dreams of one day becoming a doctor.
6. Risa, 15, Kyoto, Japan
Living with 13 other women in a tea house in Kyoto, Japan, 15-year-old Risa is a "maiko" — an apprentice geisha. She sleeps with five other women in a room that doubles as a dining room and a tea room.
7. Jaime, 9, New York, USA
Living in a top-floor apartment on Fifth Avenue in New York, 9-year-old Jaime likes to play the cello, kickball, and study his finances on the Citibank website. His parents also own luxury homes in the Hamptons and Spain. 
8. Anonymous, 9, Ivory Coast
An orphan and refugee from war in Liberia, this 9-year-old boy goes to school in Ivory Coast for ex-child soldiers and lives in a concrete shack with some of his classmates.
9. Joey, 11, Kentucky, USA
Often accompanying his father on hunts, 11-year-old Joey owns two shotguns and a cross bow and made his first kill, a deer, at age seven. He lives with his parents and older sister in Kentucky and "is hoping to use his crossbow during the next hunting season as he has become tired of using a gun."
10. Indira, 7, Kathmandu, Nepal
Living with her parents, brother and sister near Kathmandu in Nepal, 7-year-old Indira works at a local granite quarry where she has worked at since she was 3. She also attends school and shares a mattress with her siblings. Their house has one room, one bed and one mattress.
11. Jasmine, 4, Kentucky, USA
Four-year-old Jasmine ("Jazzy") lives in a big house in Kentucky with her parents and three brothers. Her room is filled with crowns and sashes that she won in beauty pageants. Having entered more than 100 competitions so far, Jazzy enjoys being treated like a princess and would like to be a rock star when she grows up.
12. Ryuta, 10, Tokyo, Japan
Ryuta is a champion sumo wrestler and has been competing for seven years. He lives in Tokyo with his parents and younger sister and is also a member of the boy scout movement.
13. Anonymous, 4, Rome, Italy
This 4-year-old Romanian boy sleeps with his family on a mattress in a field on the outskirts of Rome. After begging for money to pay for tickets, his family came from Romania by bus. With no identity papers, his parents clean windscreens at traffic lights since they cannot obtain legal work. None of his family members have ever been to school.
14. Erlen, 14, Rio de Janeiro, Brazil
Living in a favela in Rio de Janeiro, Brazil, 14-year-old Erlen is pregnant for the third time. She usually sleeps on the floor but her mother has swapped places and allowed her to sleep on the bed during the later stages of her pregnancy. Erlen was 12 and 13 years old during her previous pregnancies, but lost both babies shortly after their births. If her new baby survives, she will be a single parent and will have to drop out of school.
15. Li, 10, Beijing, China
Ten-year-old Li is a perfectionist and lives with her parents in an apartment block in Beijing. She spends up to three hours every night working on her homework, "completing it to the highest standard."
16. Maria, 12, Mexico City, Mexico
Maria lives with her parents and older sister in a three-storied house set around a courtyard and behind security gates in Mexico City. Security is taken very seriously by her family since one of her cousins was kidnapped by a gang.
17. Bilal, 6, Wadi Abu Hindi, The West Bank
Six-year-old Bilal's family are Bedouin Arabs living in a one-room shack they built themselves besides an Israeli settlement at Wadi Abu Hindi in the West Bank. Bilal does not go to school yet but helps take care of his family's 15 goats. 
18. Nantio, 15, Lisamis, Kenya
Nantio is a member of the Rendille tribe and lives with her two brothers and two sisters in a tent-like dome made from cattle hide and plastic, with little room to stand, in Lisamis, Kenya. She went to the village school for a few years but decided not to continue and is hoping a "moran" (warrior) will select her for marriage.
19. Roathy, 8, Phnom Penh, Cambodia
Eight-year-old Roathy's home sits on a rubbish dump swarming with flies on the outskirts of Phnom Penh, Cambodia, where he sleeps on a mattress made from old tires. At 6 a.m. every morning, Roathy and  hundreds of other children are given a shower and breakfast at a local charity center before he starts work — scavenging for plastic bottles and cans, which are then sold to a local recycling company. Breakfast is sometimes the only meal of the day.
20. Delanie, 9, New Jersey, USA
Delanie lives with her parents and younger brother and sister in a large house in New Jersey where each child has his or her own bedroom. She aspires to be a fashion designer and design her own clothes.
21. Rhiannon, 14, Darvel, Scotland
Rhiannon lives with her parents and brother in a terraced house in Darel, Scotland, in an area plagued with heroin addiction and gang violence. She and her family have become used to abusive behavior from people in the neighborhood. Sporting a mohawk like her parents' ever since she was six, Rhiannon and her family and friends are part of a punk subculture and have formed a community of support where they all look out for each other.