This Was Surprisingly the Most Purchased Item At Walmart During Thanksgiving Day Sales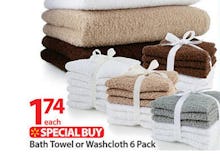 The news: It's official — this year's bestselling item at Walmart's Thanksgiving Day sale wasn't a tablet, a phone, or a TV, but something unbelievably low-tech: towels.
Between 6 p.m. and 10 p.m. on Thursday, Walmart sold 2 million TVs, 1.9 million dolls, 1.4 million tablets and a record 2.8 million towels. (The chain processed a total of 10 million transactions in the same time frame.) People even turned violent in their pursuit of inexpensive washcloths.
Didn't see that one coming, right?
The background: Black Friday, once rife with negative connotations, has become synonymous with the beginning of the holiday shopping season. Recently, the shopping bonanza has expanded into Thanksgiving Day, prompting protests while increasing consumer spending.
And as the sales have changed, so too have our holiday shopping habits. Black Friday used to be a day in which consumers focused on buying gifts for others, not just items they wanted for themselves. This year, according to DealNews, 44% of poll respondents admitted they were just shopping for themselves. This phenomenon could help explain the surge in popularity for bargain towels, which are by no means anyone's favorite holiday gift.
Credit: www.dealnews.com
The takeaway: While the recession has certainly played its part in increasing the need for low-price shopping, it is mildly horrifying that we have reached the point of fighting over towels, or that we live in a country where this is a thing.