10 Great Holiday Gift Ideas For That Special Politician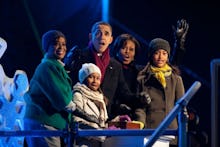 As the holiday season approaches, it's time to speak up for the American patriots who work tirelessly for this country each and everyday. Forget the Salvation Army, the Wounded Warrior Project, and Toys for Tots this holiday season. Give something special to your favorite political figure instead. Here are a few gift ideas for a few people who are too selfless to ask on their own behalf, or are maybe receiving them on the downlow from some lobbyist.  
1. Michele Bachmann — A 47th vote on repealing Obamacare
Congresswoman Michele Bachmann has led the charge to repeal Obamacare as a member of the House of Representatives, which has held 46 failed votes in against President Obama's signature health care law. Since I'm assuming Bachmann gets some type of masochistic pleasure from setting herself up for repeated public humiliation and failure, it's only fitting that this Christmas she gets one more chance to vote against Obamacare before she leaves Congress forever in January.
2. John Boehner — A lifetime membership to Palm Beach Tan
During the government shutdown, Speaker of the House John Boehner (R-Ohio) struggled to appease the Tea Party and mediate with President Obama. With the government now open and (sort of) operational, it's time for John to get some much deserved rest this Christmas ... at his favorite tanning salon. 
3. Michael Bloomberg — A Fourth Term. And a Fifth. And a Sixth.
With Bill de Blasio preparing to become the next mayor of New York, Michael Bloomberg is still hoping for a few more years in office. Bloomberg, who already amended the law to run for a third term in 2009, is probably hoping for another arrangement to keep him in office for a few more years.
4. Nancy Pelosi — Functioning facial nerves
There are two things Rep. Nancy Pelosi (D-Calif.) would like regain control of in 2014: her speakership in the House of Representatives and the function of her facial nerves. 
5. Wayne LaPierre — A couples photoshoot with his longtime partner, AR-15 Bushmaster
It's no secret that Vice President of the NRA Wayne LaPierre really loves his guns, which is why this Christmas he is asking Terry Richardson for an intimate, yet tasteful, photo shoot of him and his AR-15 Bushmaster. 
6. Elizabeth Warren — Warby Parker glasses
Sen. Elizabeth Warren (D-Mass.) has become a populist hero for her continued championing of accountability for Wall Street bankers.  Since Warren is especially popular with young, liberal voters, it's only fitting that she trade in her wirey frames for a chunky pair of hipster glasses.  
7. Rand Paul — A speechwriting team.
If you haven't heard, Sen. Rand Paul (R-Ky.) has run into some trouble recently for plagiarizing entire sections of his speeches from Wikipedia. That's why this Christmas, Paul is asking for a team of speachwriters that have all passed remedial high school English. 
8. Anthony Weiner — A job at Snapchat
After admitting that he continued to send inappropriate text messages after his 2009 resignation from Congress, Weiner finished at the back of the pack in the Democratic primary for New York City mayor. Since he won't be returning to public life anytime soon, Weiner hopes to use his experience to contribute to the team over at Snapchat. 
9. Ted Cruz — Dr. Scholl's arch support insoles
Although Sen. Ted Cruz (R-Texas) may not be very good at actually governing, his 21-hour anti-Obamacare speech in September, proves that the Texas Republican does have the ability to stand for long periods of time. That's why this Christmas, Cruz is asking for a new pair of arch supports for his signature ostrich skin "arguing boots."
10. Barack Obama — Marlboro Lights
After a successful re-election campaign, President Obama has struggled through a government shutdown, a rocky roll out of his health care law, and still faces 20% of the country who thinks he was born in Kenya. That's why this Ramadan, all POTUS is asking for is a chance to relax with a Marlboro Light, a match, and no judgement from Michelle.