Sallie Mae Faces Federal Investigation Over Lending Practices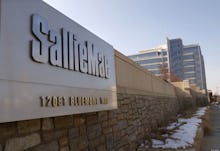 Student loan debt has skyrocketed, surpassing credit card debt and auto loan debt. Today, more than 37 million Americans carry almost $1 trillion of student loans. Research from the Pew Foundation found that in 1989, student debt sat at just one in 10 households. That number now stands at one in five. The average American college graduate owes $27,000 after graduation, and one in 10 will default on payments in the first two years. Consumer advocates have long called for greater scrutiny of rising student debt and loan servicing.
Sallie Mae, the nation's largest servicer of student loans owns 15% of student loans worth $126 billion, and is attracting a lot of negative attention for its bad loan servicing practices. In its latest quarterly report Sallie Mae told investors that it is facing investigations from the Consumer Financial Protection Bureau (CFPB), the Federal Deposit Insurance Company (FDIC), and the Department of Justice (DoJ).
Published on Oct. 16, the Annual Report of the CFPB Loan Ombudsman found that Sallie Mae has many "troubling practices" and few regulatory mechanisms for following federal law. Troubling practices include misallocated payments and maximized late fees and penalties that prevent borrowers from quickly paying off student loans.
There are huge implications associated with increases in student debt, including limiting access to the middle class and crippling generations of young workers on which the strength of our national economy relies. Rising debt could also decrease credit-worthiness and reduce revenues from auto and home purchases that would benefit the economy. The FDIC is expected to accuse Sallie Mae of violating federal consumer protection laws including "unfair or deceptive practices and discriminatory lending."
The lending giant has also failed to provide borrowers with all of their repayment options. Student loan expert Heather Jarvis reports that although Sallie Mae holds 40% of federal student loans owned through the Federal Family Education Loan Program, only 15% of Sallie Mae borrowers are enrolled in the Income Based Repayment Program (IBRP), which is designed to protect borrowers and prevent loan default and deferment. Low numbers of students enrolled in the IBRP is especially concerning since one in seven graduates is defaulting on loan repayment.
The DoJ is also investigating Sallie Mae for its handling of loans of service members. Holly Petraeus, who leads the Bureau of Service Members Affairs, published a report showing that lenders failed to give military service personnel the required protections under the Service Members Civil Relief Act. Where the law mandates lenders place a 6% cap on loans incurred while entering active duty service, Petraeus discovered loan servicers placed inappropriate requirements on members seeking loan caps.
Sallie Mae is also under scrutiny for it's murky relationship with the federal government.  Sen. Elizabeth Warren (D-Mass.), wrote a letter to Ed DeMarco, head of the Federal Housing Finance Agency, questioning the unfettered relationship between the federal agency and Sallie Mae and outlining how, for the last several years, the Federal Housing Finance Agency (FHFA) has been funding Sallie Mae using tax payer dollars intended to bolster banks in support of the housing market. 
Sallie Mae carries an $8.5 billion credit line that is subsidized at an interest rate of 0.23% and 0.34%. By contrast, college students take out loans that are 25 to 40 times higher. Undergraduate students borrow from Sallie Mae at an adjustable 3.85% rate while graduate students borrow at an adjustable 5.4% rate. Sallie Mae was able to borrow at less than one quarter of 1%. While Sallie Mae has maintained its profitability raking at $2.5 billion in interest payments alone, students carried the burden of cheaply-bought loans financed with tax payer dollars. Warren has called for an investigation into these practices, and an explanation of the lack of accountability for Sallie Mae.
There has been some movement in this direction. For example, the Department of Education (DoE) cut Sallie Mae's funding, limiting the amount of loans the company can cover for the upcoming year. The DoE has also issued new rules bolstering protections for students borrowing federal loans. The New York Times reports that under these new guidelines, loan repayment schedules must be offered under guidelines similar to what would be offered under the IBRP. The new guidelines also set limits for forbearances and require lenders to provide repayment alternatives.
Though the new rules for loan repayments offer a modicum of relief, there also needs to be an examination of higher education and its costs. Rising tuition costs, books, and room and board will continue to create a dependency on loans. And while the value of an education is undeniable, the value of higher education is questionable in a weak economy. 
In a stormy financial climate with a blistering job market and no guaranteed jobs for college graduates, there must be a reevaluation of how far a college degree will get you, and whether the cost of the degree is worthwhile.