Donald Trump Wages War On Scotland Over Wind Farm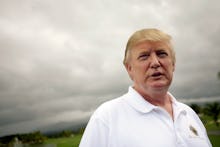 Donald Trump — business mogul and future president of the universe — has found himself in a legal battle with the government of Scotland.
Basically, Trump promised to create 6,000 jobs in Scotland by building his international golf course, hotels, and communities in the town of Aberdeen, while arguing that the environmental concerns over the delicate coastline ecosystem ought to be trumped (pun intended) by economic and job growth. Two years later, Trump is threatening the Scottish government to halt construction over what he sees as an eyesore: wind farms.
Last month, Trump was in Scottish court trying to block approval of a massive offshore wind farm that would be visible from his resort.
"I will not build this hotel if they are going to build this ridiculous wind farm," Trump said. "Who would build a hotel where the windows are looking right into an industrial turbine?"
Trump is doing his typical strutting, throwing around of his money, and of course, filing of lawsuits. A hearing in Scotland started a few weeks ago to investigate Trump's complaints about the wind farm. As the courts debate the issue, Trump has launched a massive anti-wind energy ad campaign using misleading advertising claims as well as using his celebrity (inside and outside the courts) to threaten the collapse of the Scottish economy.
"Wind farms are a disaster for the environment," Trump said. "They kill the birds. They are very expensive in terms of energy. They're made in China."
When Trump sought approval for construction of the Trump International in 2007, he promised to create two golf courses and hundreds of luxury homes, condos, and hotels. He argued that the project would attract over a billion dollars of investment and 6,000 jobs. At the time, Scottish First Minister Alex Salmond argued, "A thousand new homes and 6,000 jobs outweigh environmental concerns."
Since then, environmentalists have been fighting Trump in Scotland. Tens of thousands of Scots have signed a petition to have a public inquiry into the government's handling of the Trump resort. As well, the documentary You've Been Trumped has gained international recognition for telling the story of one farmer's fight for his land. The film captures the land disputes that have erupted between billionaire Trump, who views the golf course as another deal, and the local Scottish residents who are concerned over the destruction of a globally unique landscape that has been their home for generations.
This issue has larger importance for the Scottish people. Next year, Scots will vote in a referendum on whether to secede from the United Kingdom. The Scottish Nationalists, currently in office, want complete independence and have made green energy a huge component of their vision for Scotland's future. They want to become the leaders in wind energy in Europe and aim to be completely reliant on renewable energy by 2020.
"Scotland is home to a quarter of Europe's offshore wind resource," said Lang Banks, director of environmental group World Wildlife Fund Scotland. "Studies estimate that Scotland's offshore wind industry could create 28,000 jobs by 2020 and contribute over £7bn [$11.5bn] of investment to the economy. It would be a great pity if Donald Trump was in any way responsible for frustrating Scotland's ambition to generate clean power and green jobs."
Donald Trump has every right to halt construction of his golf courses, resorts, or anything else he's building in Scotland. However he doesn't have the right to dictate Scottish energy policy. Also, this won't be the last time Trump comes up against governments and environmental groups. Many local groups in Albemarle County, Va. are fighting against Trump's proposal for a new golf course due to conservation concerns. Hopefully these governments refuse to conduct business with a man who goes back on his promises, threatens a town's economic future, and ignores the environment.