This Map Shows Your Chances Of Having a White Christmas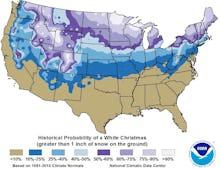 Christmas is just better with snow on the ground, there's no denying it. There are billions of songs written about just how wonderful it is to have a few inches of accumulation on December 25. We're all dreaming of a White Christmas. But what if we didn't have to dream? 
Source: NOAA
The National Oceanic and Atmospheric Administration has put together this map of the United States, showing the probability an area will have a White Christmas, which they quantify as greater than 1 inch of snow. 
Using 30 years of climate data, NOAA generated the historical probability of snow on the ground Christmas Day. As you can see, it shakes out pretty much how you'd expect. The northern regions of the country have a 50% shot or better, middle regions have around a 10-30% chance, and the south, well, good luck. 
But these are based on the past. What about the future? Unfortunately, forecasts for Christmas 2013 aren't looking too good. New York City is forecasted to be above 40 degrees on December 25, with some rain. Washington, D.C. will be in the high 40s. Chicago is forecasted to be in the high 30s, with rain turning into ice. And Los Angeles? Come on, we all know you never had a chance. 
So maybe our chances at a White Christmas aren't too great this year. But that won't stop us from hoping.