Olympians and Athletes are Showing Russia How They Feel About the Anti-Gay Laws, and You Can, Too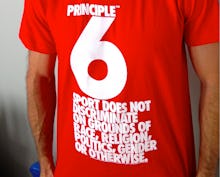 In 76 countries, it is illegal to be gay. In 10 of those countries, it's grounds for life imprisonment or execution.
And ahead of the 2014 Winter Olympics in Sochi, the spotlight is on Russia, where "homosexual propaganda" — such as public events that promote gay rights and public displays of affection by same-sex couples — was criminalized in June. 
But the world is fighting back.
 In particular, two organizations, All Out and Athlete Ally, are not having it. They teamed up with American Apparel to make a specially branded clothing line whose proceeds will go to LGBT groups in Russia fighting anti-gay laws. 
All Out is a campaign with almost 2 million members dedicated to stopping LGBT discrimination and raise awareness. Athlete Ally is an organization working to end homophobia and transphobia in sports by educating athletes and coaches about the issues.
Principle 6 comes from the Olympic Charter's mission statement, which reads, "Any form of discrimination with regard to a country or a person on grounds of race, religion, politics, gender or otherwise is incompatible with belonging to the Olympic Movement." The Principle 6 website says, "Under pressure from our campaign, the International Olympic Committee (IOC) has confirmed that Principle 6 includes sexual orientation, but the IOC and sponsors still refuse to speak out against the laws."
Brian Ellner, founding board member of Athlete Ally said, "Now there's a safe way for millions of fans and thousands of athletes to be visible and take a stand. That's enormously important. We need to take advantage of this Olympic moment. Our next great challenge will be to keep the world focused on the real violence and intimidation the Russian LGBT community experiences because of these anti-gay laws after the Games conclude."
Over 30 Sochi-bound Olympians and other athletes have joined the Principle 6 campaign. 
Belle Brockhoff, snowboarder
Brendon Ayanbadejo, NFL
Chris Kluwe, NFL
David Pocock, rugby player
Robbie Rogers, Major League Soccer player
The clothing line is available online starting today and in stores internationally on January 1.