What is the Origin Of Your State's Name? Check This Map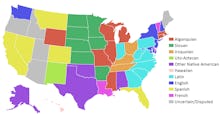 This colorful map betrays the origins of most of the United States' state names.
The patchwork of hues hints at the many cultures and historical influences that helped shaped the country, and resulted in a nation so breathtakingly beautiful that sometimes, to show it in all its glory, you just have to go ahead and cut Asia in half.
Sorry, Asia.
Nearly half of states, 24 in total, are styled after Algonquian, Siouan, Iroquoian, and other Native American terms. While Alaska may not be considered part of the contiguous United States, its name derives from the Aleut word for "mainland." Massachusetts refers to the state's proximity to a "great hill" that's 10 miles southwest of Boston, while Michigan's name appropriately describes it as a place with a sizable lake. Missouri is named for its famed dugout canoes, Nebraska for its flattened water, and Connecticut for its beauty.
The strong influence of Native American cultures on our place names is evident even non-native terms. The word "Utah" is derived from the Spanish term for the Ute people, much as "Indiana" is an English word that translates to, "you know, the place where those people we named after South Asians actually used to live."
English and Latin names are largely confined to the Eastern seaboard's original colonies, which were founded before Americans realized that they didn't have to live in "new" versions of British regions, or pay homage to virgin queens. After independence, the United States abruptly stopped naming things after King George II, and began naming them after George Washington, instead.
Non-English European influences are readily apparent. Louisiana was, of course, named after sassy French regent Louis XIV, and Vermont means "green mountain" in French. People who believe that English should be made the official language of the United States (it's not) will be pleased to know that no fewer than five states trace their names to the Spanish language, thanks to the fact that Spain claimed large swaths of what's now the United States. Colorado is named for the reddish hue of the Colorado river, and California is named after an island in an early 16th-century Spanish novel. Thanks to the high peaks to its west, the desert state of Nevada derives its name from the Spanish word for snow, much as Montana is simply known for its mountains.
Interestingly, Delaware State, the Delaware River, the Delaware Bay, and the Lenape (also known as the Delaware Indians) all have one guy to blame: the improbably named Thomas West, Third Baron De La Warr. 
Finally, the most important thing you can take away from this map, aside from delving into the many influences that molded our great nation? That Idaho's name really is a joke.