11 Beautiful Abandoned Places Around the World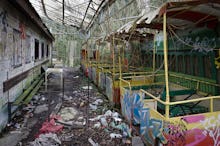 There are few things creepier than an abandoned building. But sometimes there's nothing more beautiful, either. These 11 places around the world take abandoned beauty to a whole new level, and make us lament that they were abandoned to begin with.   
1. Medieval Village; Craco, Italy
Founded in the 8th Century, it was mother nature that did Craco in. The village is openly exposed to the elements on the hillside, and earthquakes and landslides forced inhabitants out in 1991. 
2. Holland Island; Chesapeake Bay
Holland Island, too, met its match in weather. People abandoned the island when storms began eroding the shore, the island slowly disappearing. The house picture collapsed in 2010, the last remaining home on Holland Island.   
3. Pripyat, Ukraine
Pripyat's lifespan as a city was a mere 16 years. Founded in 1970, Pripyat inhabitants fled the city after the Chernobyl disaster in 1986. The city's nearly 50,000 citizens moved to escape the nuclear radiation, leaving Pripyat a ghost town. 
4. Christ of the Abyss; San Fruttuoso, Italy
Does it count if this was intentionally abandoned? Designed by artist Duilio Marcante, the Christ statue was intentionally placed at the bottom of the bay at San Fruttuoso. Because, art. 
5. Train Depot; Czestochowa, Poland
Everyone in Poland is really into airplanes. Trains are so last century.
6. Hashima Island, Japan
Believe it or not, Hashima Island used to be known for its coal mines. It was founded by Mitsubishi in 1890 for coal extraction, but the company closed the plant in 1974, leaving it a ghost island. 
7. Kasteel van Mesen; Lede, Belgium
Kasteel van mesen has been home to everything from a tobacco factory to a boarding school. But it was abandoned in the 1970s, and razed to the ground in 2010. 
8. Hotel Salto del Tequendama; Colombia
The Hotel Salto del Tequendama closed in the 1990s. The two leading explanations: it was haunted and guests refused to stay there, or pollution in the river forced closure. I'll sure know which one I choose to believe. 
9. Villa Epecuén; Argentina
Villa Epecuén was once a thriving resort town. In 1985, water broke through the dam, and the village was abandoned. It was submerged under water in the 1990s, before the water receded leaving it as it is today.  
10. Gulliver's Kingdom; Kawaguchi, Japan
This Gulliver's Travels theme park closed in 2001 and quickly became a creepy abandoned amusement park.
11. Dadipark; Dadizel, Belgium
There's a good reason Dadipark closed down in 2002: a kid LOST HIS FREAKING ARM. People grew concerned about safety at the park and attendance declined rapidly.