Lars von Trier's 'Nymphomaniac' Isn't About Sex, It's About Addiction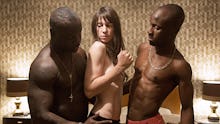 Lars von Trier has given his fans — and his critics — an early Christmas present with the release of the latest NSFW teaser for his upcoming film Nymphomaniac. Starring Charlotte Gainsbourg as Joe, the titular nymphomaniac, the movie has already received a lot of attention for its no-holds-barred pornographic content.
The story is divided into chapters as it tells the story of Joe's life as a sex addict. This latest spot gives us a glimpse into "Chapter 6: The Eastern and Western Church," wherein we see a distressed Joe open a Christmas gift from a man named K (Jamie Bell). Unwrapping the red and green package reveals a wooden flogger inscribed with the nickname "Fido." Joe then methodically prepares herself for what's to come, stacking phone books on the arm of a leather chair, lifting her dress to reveal a naked torso and bottom, and bending over in anticipation of K and Fido. The scene is devoid of passion or feeling. Joe is cool and calm, disciplined and unflinching.
This latest teaser is von Trier's most recent stunt to up the ante in anticipation of the official Dutch release of Nymphomaniac on Christmas Day. Earlier in November, he released one of the most explicit "appetizers" to date: a clip in which a young Joe is seen engaging in sex and receiving cunnilingus in a series of split screen scenes. Shortly after he gave us the first full trailer for the film, which offered the most insight to date as to who Joe is and where Nymphomaniac will take us.
Love or hate him, it's undeniable that von Trier knows how to shake us up and keep us watching. His films are uncomfortable, and their messages are often muddled. This newest film throws us a seemingly sexually experimental and liberated woman, yet the fact that her sexual explorations have destroyed her leaves me deeply unsettled. Joe is someone who has clearly lived a life without restraint, but the little we've seen from Nymphomaniac has shown her to be her own worst enemy. Joe dislikes herself and dislikes what she does, but she's caught in a cycle of sex, abuse, and anger.
The explicit sexuality shown in Nymphomaniac is in line with von Trier's previous works, which have often subjected female characters to violent situations as well as vilified and punished them for their sexuality. The director has been called a misogynist so many times for films like Antichrist that it's hard to disassociate him from such notions when thinking about his most recent endeavor.
A scene from von Trier's controversial Antichrist.
But I'm wary to immediately peg Nymphomaniac as misogynistic — at least just yet. Thus far the film looks to be more an exploration of addiction than just sexuality. A scene in the trailer shows Joe introduce herself as a nymphomaniac at a support group, but the group's leader quickly corrects her, saying, "Sex addict, we say sex addict." It's important that Joe, if she is an addict, come to terms with it as just that. In verbally recognizing her nymphomania as an addiction, she accepts that it's not just about hyper-sexuality; it's about dependency.
There is another moment in the trailer when Joe says, "Perhaps the only difference between me and other people was that I always demanded more from the sunset — more spectacular colors as the sun hit the horizon — that's perhaps my only sin." This desire for intensity, for extreme pleasure, is one that hits close to home for many people. After all, who doesn't want more out of their experiences? Joe is simply someone who has pursued her wants to a fault, but she is not bad. She is a sex-addled, modern-day Icarus.
How von Trier handles Joe's story, and how he allows the character to unfold, will determine whether or not Nymphomaniac can rise above the hard-core sex scenes it is set to shock us with, and instead spur real, complex questions about our own pursuits of personal fulfilment.