5 Ways Female Filmmakers Will Revolutionize Hollywood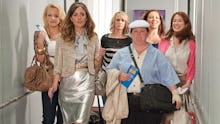 Following the record-breaking box office success of the female-led Hunger Games: Catching Fire over Thanksgiving weekend, the New York Film Academy (NYFA) put together a report on the state of gender equality in film. The results are expectedly grim: Women remain dismally underrepresented in all areas of the film industry, both on and off-screen. 
Of the top 500 films released between 2007 and 2012, only 30.8% of speaking characters were female, and just 10.7% featured a balanced cast where half the characters were women. Of the top 250 films of 2012 alone, only 9% of directors and 12% of writers were women. Academy Award history is similarly discouraging: A mere seven female producers have won Best Picture, all as co-producers with men. Only four women have ever been nominated for Best Director, and just one has won (Kathryn Bigelow in 2010 for the The Hurt Locker).
Image via New York Film Academy.
These numbers can't be chalked up to a lack of women's interest in filmmaking. When sexism remains a strong barrier to the industry, the label "female filmmaker" can be divisive. The largest studios are still dominated by men (Sony's Amy Pascal is the only female head of a major studio). Financing is therefore largely controlled by men, and 77% of Oscar voters are men. This doesn't exactly make for a fair battle. 
But times are changing. With filmmaking tools becoming more accessible and affordable, financing becoming more feasible through crowdfunding and alternative methods, and marketing more cost-effective through social media, the independent film industry is experiencing new-found growth and success. Over the last 10 years, there has been a 74% increase in the number of movies distributed by companies other than members of the Motion Picture Association of America (MPAA), and this year women made up half of the directors in Sundance's Dramatic Competition for the first time. 
It's still not enough. The status quo does a disservice not only to women, but also to movie audiences, who deserve a wider range of perspectives than what's currently presented on screen. And there's a tangible benefit to leveling the playing field: NYFA's study found that when women are directing, there's a 10.6% increase in the number of women on screen, and an 8.7% increase when a female screenwriter is involved. More female filmmakers breaking into the Hollywood elite will benefit everyone. Here's why.
1. More women's stories will be told.
The Oscar-nominated drama Winter's Bone, written and directed by Debra Granik and adapted from a Daniel Woodrell novel, cast Jennifer Lawrence as a fearless teenager in the Ozarks trying to find her father and keep her family together. She teaches her siblings how to hunt, guts a dead squirrel, and stands her ground against meth-heads. While it didn't win big at the Academy Awards, it saw 49 wins at various other festivals, and both the film and Lawrence's performance received widespread critical acclaim. Her breakout role represents a stark contrast to movies like 2011's Thor, in which, like most of Marvel's adaptations, a female character is placed in a position of reliance on the male lead. 
2. Women (and men) will be portrayed with complexity and depth.
2007's beloved comedy-drama Juno, written by Diablo Cody, gave the world a witty, touching and honest look at a pregnant teenager exploring love and adulthood (plus phrases like, "Hold on, I'm on my hamburger phone."). The film's three-dimensional characters — notably lead actress Ellen Page with her tomboyish, deadpan perfection and Michael Cera as an atypical picture of masculinity — and sharp dialogue articulate the complexities, ennui, and general whateverness of teenage-dom without relying on stereotypes of young people found in movies like She's All That, American Pie, and Van Wilder (or, really, anything National Lampoon-branded).
3. It will break down the male gaze.
With men dominating positions at the top of the industry, the male gaze in film has been so normalized that audiences may take for granted that women are the same in real life as they are often portrayed on-screen: either vapid and sexy, constantly on display as objects of desire, or dorky and virginal, and undesirous of sex altogether — without much room for variations on these tropes. 
Maggie Carey's 2013 comedy The To Do List offers an alternative interpretation of women's sexuality not typically presented in film. Carey's film proposes the radical notion that not only do intelligent women want sex, but also that this desire is not a big deal (and it doesn't make them "slutty"). Parks and Rec star Aubrey Plaza plays Brandy Klark, a valedictorian who assembles a list of the sexual experiences she needs to catch up on before entering college. The film has inspired both love and hate from critics and moviegoers, but its depiction of a female lead who takes charge of her sexuality and talks frankly about topics like masturbation and oral sex is a refreshing change of pace from films replete with rampant penis-talk (like Superbad), or those which cast women solely for their "hotness," like Transformers.
4. It will allow for a wider range of female actresses.
Representation of women over 40 in films (barring when their characters are relegated to MILF status to keep them "relevant") is slim to none. What's more, age tends to be a primary factor when it comes to determining an actress's monetary success, according to NYFA's report. (The sad state of representation of minority women is a whole other story.)
Director Sarah Polley's 2006 Away From Her, based on a short story by Alice Munro, stars Julie Christie in a love story exploring the effects of Alzheimer's on a relationship. The then 65-year-old Christie garnered critical acclaim for her performance, and is one of the few actresses over 40 to have remained in the spotlight. 
More female directors, who are inevitably more attuned to the female experience, will perhaps present us with more opportunities for older actresses to showcase their talents, and give female audiences — who make up half the ticket-buyers in the U.S. — more characters and experiences with which to identify. 
5. It paves the way for more women to enter the industry.
Bridesmaids, written by Kristen Wiig and Annie Mumolo and produced by Judd Apatow, is at once hilarious, sweet, and disgusting. When it was released in 2011, the comedy proved to audiences and studios alike that an almost entirely female cast, and a plot built around women's complex relationships with one another, could be genuinely entertaining — as well as a massive financial success. The film grossed $24.6 million on its opening weekend and ultimately out-grossed Apatow's male-centric hits Knocked Up and The 40-Year-Old Virgin.
Kathryn Bigelow's Oscar win for The Hurt Locker was another big step forward for women in the industry. Though she remains the only female director to have won the top Oscar, she's nonetheless an inspiration for filmmakers everywhere. Bigelow proved that not only can a woman tackle the typically male genre of war, but also that she can do it even better than the boys.
Women make up half the world's population, and yet the majority of films are about men, told by men, or about women whose stories revolve around men. Ultimately, whether or not women tell stories about women is beside the point; we need their unique perspectives and voices to round out the film world's repository and challenge the status quo.