The Thai Government is Being Overthrown Right Now. Here's Why.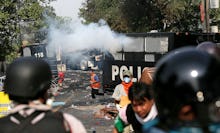 The news: Thailand is in the midst of political protests demanding the current government, headed by Prime Minister Yingluck Shinawatra, be ousted and replaced. The protests pit the current government led by Yingluck against anti-government protesters led by former Deputy Prime Minister Suthep Thaugsuban.
Current Thai Prime Minister Yingluck Shinawatra is the youngest sister of former Prime Minister Thaksin Shinawatra, who was removed from power and exiled in 2006 by a military coup. Protesters claim Yingluck is little more than a puppet for the billionaire Thaksin, and want her current government replaced with a "people's council." Protesters are seeking to rid themselves of Thaksin's influence once and for all. Though he was overthrown in 2006, his part has won every election since 2001. The Thai protesters seek repsite from Thaksin's government, which they believe is riddled with his unwanted influence, and wish to enact their own.  
Ongoing for more than a week, the protests have reached something of a lull, as the country nears the birthday of its king, Bhumibol Adulyadej, on Thursday. But neither side intends to back down any time soon. Yingluck has ignored calls for her resignation, claiming that she is open to talks to resolve the conflict but will not vacate her position as prime minister. The government is calling for Suthep to abandon the protests and turn himself in, to face criminal charges, including insurrection.
"It's time for him to surrender because he broke the law and anyone who gives him refuge or shelter would be deemed guilty, too," said Thailand's Foreign Minister Surapong Tovichakchaikul.
Source: AP
The backstory: The current protests have left at least three people dead and injured more than 100. On Sunday, protesters seized control of the state television headquarters in Bangkok.
Source: AP
Prime Minister Yingluck finds support among the country's poor rural majority, while protests against her are fueled by Thailand's urban elite. But some argue Thailand's political unrest runs deeper than conflict surrounding the Shinawatra family. Historian Nidhi Eoseewong says, "It's socioeconomic change, enormous change that has taken place for the past two decades." 
As more and more of the country's poor farmers move into the middle class, they're beginning to demand more representation in government. The current ruling classes are reluctant to cede part of their power, driving the unrest Thailand finds itself in.