The 10 Most Corrupt and 10 Least Corrupt Countries in The World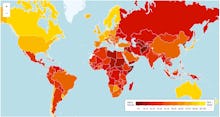 We all know every government is at least a little corrupt, but have you ever wondered just how corrupt a certain country's government is around the world? Or which country is the most corrupt? Well, there's an answer. Transparency International has released its 2013 rankings of the most and least corrupt countries in the world. 
Check out their neat interactive infographic: 
Transparency International gave 177 countries scores ranging from 0 to 100, most to least corrupt. So if your country has a score of 0, I'd recommend getting out as fast as you can. And if it has a score of 100, well no one likes a goody two-shoes.
Thankfully, there weren't any perfectly corrupt or perfectly not-corrupt countries this year. But some came very close.
The most corrupt countries in 2013 (including a three-way tie for first!):
T-1. Somalia (8)
T-1. North Korea (8)
T-1. Afghanistan (8)
4. Sudan (11)
5. South Sudan (14)
6. Libya (15)
7. Iraq (16)
T-8. Turkmenistan (17)
T-8. Syria (17)
T-8. Uzbekistan (17)
The least corrupt countries in 2013:
T-1. Denmark (91)
T-1. New Zealand (91)
T-3. Finland (89)
T-3. Sweden (89)
T-5. Norway (86)
T-5. Singapore (86)
7. Switzerland (85)
8. Netherlands (83)
T-9. Australia (81)
T-9. Canada (81)
Wondering where the United States ranked? You'll have to drop all the way to 19th, with a score of 73 (unchanged from 2012). Seriously, Canada beat us? Who do we have to bribe to get our score above 80? Oh wait.
Transparency International notes that two-thirds of countries scored below 50, which "indicates a serious, worldwide corruption problem." Shame on you, world.
How can we clean up our acts? There's an answer for that too: "The world urgently needs a renewed effort to crack down on money laundering, clean up political finance, pursue the return of stolen assets and build more transparent public institutions."
Well, there you have it. Sounds easy enough.