Love It Or Hate It, Millennials Must Be Part Of the Obamacare Debate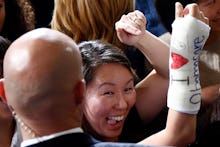 My fellow millennials, we are a generation of seekers. We are looking for ways to live a life full of meaning. When our hair has gone gray and our hands become wrinkled, we want our eyes to still sparkle with pride and idealism when we talk about the marks we left on the world. The time has come for us to step up and make those marks. Health care can be the issue through which we make our contribution to history.
Millenials must enter the debate about health care. Love it or hate it, the Affordable Care Act (ACA) heavily impacts our generation. We may qualify for low premium rates now because of the ACA, but we may also bear the true brunt of the law's costs in the years to come. In a country where the population gets more obese every year and unemployment rates are higher than they have been in decades, the future our generation is inheriting looks to be one where health care reform is more necessary now than ever. The time to get involved in shaping our country's future is now.
As a nation, our hope for a bright future has dimmed. Keeping food on the table has gotten hard. Our own citizens no longer think of the United States as the "and of opportunity." Almost half of Americans have some kind of chronic health condition. Consider how that figure will change when our trans fat-loving population grows older.
It is no longer a certain we will enter a future of prosperity. We must get involved in politics surrounding important social issues if we want the futures our parents promised to await us. Engaging in the health care debate is how we can restore hope for a better tomorrow and improve our quality of life for us and for future generations. We cannot sit idle and let our future be written by politicians who, quite frankly, will not have to live with the consequences.
Today is the day to make your voice heard. Join us in furthering the conversation on health care reform and the ACA by engaging with PolicyMic's Open Mic on the ACA. Our grandparents fought a world war for their freedom. Our parents marched for equality.
Let our generation be remembered for standing up and demanding health care for all.