Here's the Original 'Ignition' Behind R. Kelly's 'Remix to Ignition'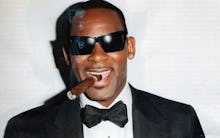 There have been two especially big new albums in the past two months that clock in at longer than an hour. One is Arcade Fire's Reflektor, a dark album that uses the myth of Orpheus and Eurydice to explore the effects of new technology on modern love and our conception of the self. The other is R. Kelly's Black Panties, which uses R. Kelly's voice to explore the many ways in which R. Kelly is good in bed. You can stream it here.
In honor of his triumphant return to extended sex metaphors, we at PolicyMic would like to present you with the little-known original "Ignition" that R. Kelly remixed into his biggest hit, "Remix to Ignition." 
This song, like the remix, uses driving as a metaphor for sex. It is, however, far less logical: Lines like "see, I'll be doin' about 80 on your freeway," "so brace yourself while I'm hittin' them corners," and, "take a break, hit the hazards when we park" are a little less powerful just from sheer overextension of the metaphor. Yet this is an example of Kelly in his element.         
His last two albums, Write Me Back and Love Letter, were largely retro-tinged soul affairs exploring new territory like unrequited love. They were actually fantastic albums — Write Me Back was spot on with its laid-back Barry White grooves, and Love Letter was a loving salute to the glory days of Motown. On Black Panties, Kelly has returned to his tight R&B jams and knowingly hilarious, gratuitous songs about his sexual prowess. Titles on the album include "Legs Shakin'," "Marry the Pussy," "Crazy Sex," "Tear It Up," "Show Ya Pussy," "Physical," album closer "Every Position," and the distressingly inscrutable "Cookie."
He can sing powerful ballads and mournful love songs, but these slightly goofy sexual metaphors are uniquely his own. Setting aside R. Kelly's sordid romantic past, he's an amazing performer, and one of the funniest songwriters going. Trapped in the Closet is hilarious because it's absurd, but R. Kelly is in on the joke. The same goes for most of the songs on Black Panties. He knows that good music can be funny and still have a serious groove. Take it from the man who has everyone on the internet saying, unwittingly, that "Black Panties is dropping."