The Ultimate 'Sound of Music' Drinking Game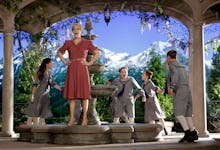 There are people in this world who were raised thinking The Sound of Music was a better Nazi-and-children movie than Bedknobs and Broomsticks. Silly people who helped make it one of the world's best grossing films of all time and, 40 years later, lead NBC to think a live performance of it could get more bums on seats than anything else. The network as deemed it a performance 'for a whole new generation.'
That's probably the worst selling point ever. Are millennials somehow incapable of just watching technicolor? To help cope with what may turn out to be glorious, a travesty, or both, follow along with tonight's performance with this drinking game.
1. Drink every time Carrie Underwood just isn't British enough.
It may seem silly, because Maria is Austrian in the first place, but Carrie's Southern drawl feels like one accent too far removed. Julie Andrews brings something extra to Maria with her special brand of Englishness. It's that blustery, endearing silliness that makes her so charming: flawed behaviour + flawless soprano = perfect performance. Carrie Underwood is very talented, but she may be too afraid of making mistakes in this single live run to willingly play around with the part. And Maria needs to be played around with, or else nobody would want to solve a problem like her.
2. Drink every time the Baroness is unfairly disliked.
You can do this with the classic film as well, but I fear the stage version has the potential to exacerbate anti-Baroness tension. Call me a fool, but I love the Baroness and don't think she deserves so much hate. In this respect, I have hope for tonight's performance. She actually may seem more likeable if Carrie Underwood isn't as charming as Julie Andrews. What's more, she's being played by Laura Benanti, a Broadway revival titan who has serious pipes and charm.
(I still kind of hope they accidentally knock the Baroness unconscious when they throw the ball around, though.)
3. Drink every time Audra McDonald reminds you she's a QUEEN.
Before there was Beyonce, there was Audra McDonald. Sort of — her Broadway career really took off around the time Beyonce was in Destiny's Child. Even so, she feels like a timeless effigy of vocal prowess. This is five time Tony winning Audra McDonald, one of our most decorated talents, and a perfect bit of casting in the role of Mother Abbess. Her "Climb Every Mountain" is guaranteed to make you cry, so be sure to drink in those brief moments before she opens her mouth. Drink until you think you can hit the high notes at the end of that song.
4. Drink every time the children aren't adorable because it's not technicolor.
There's something about pre-1970s movies that allows children, and their frequent inability to act, a great deal more elbow room. Children today, for no good reason, just don't seem as charming when they perform. Is it because they're now reared for the stage from birth? Does this rearing imbue them with actual talent? That's unclear. But drink every time the children get on your tits, and you'll be gone by the end of the whistle scene.
5. Drink every time someone forgets which of their favorite things comes next.
Children on stage? Songs with long lists of long words? Someone's bound to mess up. I bet it'll be Liesl. Sixteen going on forgetful, that one. Whenever somebody flubs a line, drink through your smug smile and know that had you been cast you'd definitely have gotten it right. Definitely.
6. Drink for every accidental innuendo.
It's practically a fact that family films are breeding grounds for some of the worst double entendres on screen. There will come a moment tonight when somebody will say something naughty they just can't explain, and somebody else is going to suck in their top lip and smother their laughter in a Nazi flag.
7. Drink whenever you wish Christian Borle would stay on stage longer.
Max Detweiller is a great character, but he doesn't get to do anywhere near enough. There is perhaps no worse description of a part for the hyper-talented Christian Borle, who you may remember from his turns in Smash and Spamalot, or for absolutely nailing Emmett in the original run of Legally Blonde. He's got the perfect blend of charm and snark for Max, and as a result he'll leave us wanting more. Drink through the pain my friends. Drink. Through. The pain. 
8. Drink for every puppet mishap in 'Lonely Goatherd.'
Giving a bunch of children a bunch of puppets on live TV is like handing the Westboro Baptist Church a box set of Will & Grace DVDs. Destruction will be had. You can bet that through the chaos, Carrie Underwood will keep singing. Singing as if surrounded by men with totes and beer in floats and randy goats, and not just a pile of threads and wood.
9. Waterfall for however long a harmony actually sounds good.
With a cast this good, the harmonies will probably be nailed. Especially since this is a staging of the musical rather than the film version of the story, and the abilitiy to harmonize is an absolutely necessity. Don't be ashamed to give the show some credit: you can drink and enjoy a dreamy harmony at the same time.
10. Take a shot relating to each part of Do-Re-Mi.
This is for those who really want to polish themselves off before we reach intermission. Find a shot that represents each note, and everytime they sing it, drink it. Here are some suggestions:
Do, a deer, a jaegermeister, 
Ray, a drop of golden scotch,
Me, it sounds quite like... vermouth...
Far, fhfhtoahghshghsfhfblegh. 
Follow this list and you'll be enjoying Thursday night's performance in no time. Plus, an inability to function comfortably on a Friday morning — now that's one of my favorite things.