Will Ferrell Has Completely Reinvented Viral Marketing. And It's Beautiful.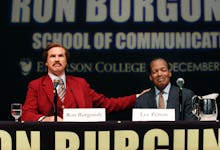 The news: With just over two weeks until the release date of Anchorman 2: The Legend Continues, sequel to Will Ferrell's hit 2004 cult classic Anchorman: The Legend Of Ron Burgundy, the movie's marketing has reached a fever pitch with pioneering tactics. As Adweek reports, Paramount Pictures is promoting the movie with a never-before-seen social media push utilizing digital studio Zemoga but "creatively masterminded by Anchorman 2's talent."
That campaign includes heavily pushed user-generated content like GIFs and memes, as well as aggressive touring by Ferrell himself, who's taking his infamous Ron Burgundy character into the real world in ways more like how Sacha Baron Cohen played the titular star of Borat in the real world.
It's a bold new strategy that appears to be working in the runup to the release of the film.
Here's the basic idea: Ferrell, in character as his disgusting, egotistical Ron Burgundy persona, has been hitting up the media circuit in guest appearances played straight at various cultural and sporting events and even on news networks. Here's him hitting on Katy Perry at the EMAs in November:
Get More: Katy Perry, MTV Shows
And this is his supposed tour of Amsterdam, in which Burgundy conspicuously manages to actually avoid showing the viewer anything meaningul about the city:
Get More: EMA 2013, Full Episodes, Will Ferrell
ESPN let Ferrell have a swing at interviewing Peyton Manning, who he referred to as a "succulent baby lamb."
He even joined a full-length North Dakota TV newscast:
And Burgundy even had a school renamed for him:
The marketing team has also been feverishly targeted at foreign audiences, including clips where Burgundy opines on everything from the Australian elections to a clip aimed at the Emerald Isles in which he offered his praise to Irish actor Jamie Dornan for landing a role in 50 Shades Of Grey: "I can only imagine it's a charming documentary on the low-barometric pressure that often occurs in Ireland, resulting in various shades of overcast skies, as the Irish are known for having a strange obsession with their weather. I imagine this is a big win for them. So good job, boyo!"
The appearances are all self-consciously designed to be potential viral content on their own, as well as bring the viewer into the larger meta-world that Burgundy inhabits before the release of the film.
According to Adweek, the "paid elements are designed to piggyback on the momentum generated by thousands upon thousands of GIFs on Tumblr," where Anchorman is going viral with hits like these:
It's a brazen, social-driven strategy, geared towards shares and going viral, and something mostly new. Time will tell if it works.