There's a New Epidemic Our Generation Has to Battle: Alzheimer's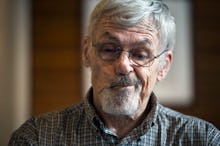 The news: According to a new report by Alzheimer's Disease International, the number of people worldwide living with the disease will triple from 44 million today to 135 million by 2050.
The driving force behind the increase in cases will be longer life expectancies in developing countries, especially those in South Asia and Africa. By 2050, 71% of Alzheimer's cases will be found in these developing nations. As it stands now, nearly 40% of cases come from rich nations.
That's not to say the United States won't too see an increase in Alzheimer's diagnoses. Because of aging Baby Boomers, the U.S. is expected to see the number of cases rise to nearly 14 million by 2050.
Why this matters: There is, of course, no cure for Alzheimer's disease, and there doesn't appear to be one on the horizon, either. That's 135 million people living with a disease without a cure. There are drugs that can treat symptoms, but none to prevent or reverse the course of the disease once it is diagnosed. 
Alzheimer's Disease International released its report as a warm-up to the G8 dementia summit in London this month. The summit aims to draw attention, raise support, and promote funding for Alzheimer's research. In the United Kingdom, Alzheimer's research receives one-eighth the amount that goes to cancer research. 
As Alzheimer's cases rise globally and in the U.S., health care costs and costs of support systems for patients will weigh heavily on an already strained health care system. 
"Dementia is fast becoming the biggest health and social care challenge of this generation," according to Jeremy Hughes of the UK's Alzheimer's Society.
While the disease may feel like a long way off for young millennials, the effects of a dementia epidemic will set in sooner rather than later. Let's hope the call for more research funding doesn't fall on deaf ears.