The Next Smart Phones Will Have a Wildly Weird Shape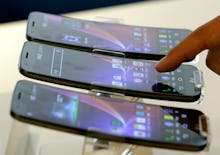 The news: At a press conference in San Francisco on Wednesday, LG unveiled their widely talked-about G Flex smartphone — the first ever curved, bendable, and flexible smartphone. The Android-based phone just recently went on sale in South Korea at a price equivalent to $940, although it's not yet clear when the curved creation will be available in the U.S. (although LG has created a website just so you can stay on top of things).
The 6-inch handset features a 720p screen that when held about a foot from your face, LG claims, will recreate the viewing experience of one of their 55-inch TVs. LG also developed a proprietary curved battery to fit into the phone that has been designed to more comfortably fit in its user's pockets when walking, hands when typing, and face when talking. And, according to Dr. Ramchan Woo, head of the mobile product planning division at LG, the curved phone will be able to withstand about 88 pounds of downward pressure before it breaks. Plus, just like the T-1000 (well, maybe kind of like it), the G Flex features a self-healing composition that will keep it free of annoying scratches. 
While this might just sound like a bunch of cool features that may or may not actually work, preliminary reviews have already been fairly positive. 
What's next: Smartphone companies like Apple, HTC, and Samsung are always talking about new advancements in their devices, but LG seems to be the first to really think outside the box and do something other than a flat box. Like most technologies, don't be surprised if this catches on and more companies start re-thinking the shapes of their products.  
Another part of the unveiling demo that should provide a delicious tease to tech enthusiasts was when the G Flex's display — a super-thin film — was detached from the phone itself and rolled up like a piece of paper. Currently, neither the phone or display can operate without each other, but this technology provides and exciting glimpse into the not-too-distant future of smartphone and tablet technologies.