'Scary Stories to Tell in the Dark' Will Soon Be a Kids' Movie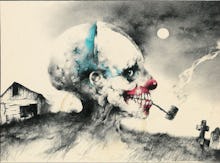 Kids of the 80s and 90s probably remember the three-part series Scary Stories to Tell in the Dark, written by Alvin Schwartz and originally illustrated by Stephen Gammell. Each of the three books is filled with between 25 and 30 chilling urban legends and folk tales accompanied by haunting pictures — a great way to bring the horror genre to a younger audience. The trilogy has sold nearly 7 million copies worldwide.
CBS Films recently acquired the rights to the entire series, and has announced that they intend to transform the stories into a feature film. The pitch was written by Patrick Melton and Marcus Dunstan, writers on Pacific Rim and part of the Saw series, among other works. The movie will reportedly combine some of the creepy tales into a single overarching story about a group of outcast children who save their town when some of their worst nightmares start to become reality (the worst nightmare of any child actually reading the books). It may be difficult to create a single cohesive work out of several unrelated stories — 82, in the case of Scary Stories to Tell in the Dark — but having the main characters as a group of misfits, a fairly common theme among protagonists in children's movies, seems like a promising step.
It'll be interesting, too, to see how the film negotiates ratings. From 1990-1999, the series of books was the most frequently challenged, according to the American Library Association, because of its depictions of violence and gory, graphic illustrations. In order for this film to be really accessible to children, as the books were, the Saw writers will have to be a bit more subtle in their depictions of violence. It's hard to imagine anything being scarier than those pictures, though.