Broadway's Gay Stereotypes Are an Insult to Theater Kids Everywhere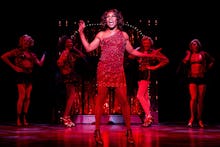 In September, gender-bending queer performer Mykki Blanco expressed anger at Britney Spears for capitalising on her gay fanbase with her single "Work Bitch." She tweeted that the song wasn't "gay pride," but rather "gay marketing," a necessary distinction as more stars than ever try to capitalize on the LGBT market. As Blanco said, "Is it just me, or is every female pop star currently in a war to secure as many gay fans and gay money as possible?"
Whether it's a smart marketing move or not, people who sell themselves as welcoming to the LGBT community don't always live up to their projected image. Unfortunately, the same could be said of one of the greatest centers of LGBT art: Broadway. Frequently a source of progressive representations of homosexuality with shows like A Chorus Line and Rent, Broadway seems to be at a low ebb these days when it comes to presenting nuanced portrayals of LGBT characters on stage. Of its current roster of shows and in the upcoming bunch of transfers, only eight definitely feature any sort of sexual minority character.
While eight may seem like a lot, closer inspection reveals that these productions aren't necessarily contributing to positive LGBT representation in art. Two upcoming shows are revivals (Hedwig and the Angry Inch and Cabaret); two are amongst the longest-running shows on Broadway (Mamma Mia and Chicago); and three are current major Broadway musicals (Book of Mormon, Kinky Boots, and First Date). 
'Kinky Boots.' Photo via O and M Co.
In Chicago, both the trans character of Mary Sunshine and the bisexual partner in "Cell Block Tango" are played for laughs. First Date's gay best friend character was described by the New York Times as a "noxious stereotype." The gay characters in Book of Mormon are depicted as hilariously repressed missionaries. Kinky Boots is the sole show that is not a revival or long-standing production to deal with LGBT characters. And Casa Valentina is the only play on Broadway at all to feature LGBT characters. Notably, it was written by Harvey Fierstein, a man whose previous works include the drag queen-filled La Cage Aux Folles.
'La Cage Aux Folles' Photo by Joan Marcus.
As an artform that has frequently been the vanguard of LGBT characters and equality on stage, theater can feel like a sanctuary for the LGBT youth who fill its auditoriums. But it now appears to be resting on its laurels, as it and continues to present itself as a welcoming home for the gay community while staging productions full of stereotypes and pantomime. It has fallen to off-Broadway venues like the Public Theater and shows like Fun Home, arguably the first mainstream musical with a lesbian main character, to take up Broadway's fallen mantle.
Go to a ticket lottery for a Broadway show, or stand in a cancellations line, and you will be surrounded by a gay community that finds a home in both musical and, excuse the pun, "straight" theater. Theater and homosexuality are connected in the public consciousness, and yet the LGBT community is not having its voice fully represented.
For every meaningful exploration of LGBT issues and sympathetic LGBT character, there is a Mary Sunshine who's unmasked as having just been a man the entire time. This is inherently problematic, and as it turns transvestism into an act of deception. Horrid stereotypes abound, like that of the gay friend in First Date, who makes a transphobic joke in his solo when he mocks a male character for being obsessed with Disney princesses. The two biggest musical revivals on the horizon, Hedwig and the Angry Inch and Cabaret, are both open in their portrayal of trans and bisexual individuals. But both, in their fully-embraced sleaziness, run the risk of providing us with a Broadway that showcases sexual minorities as grubby outsiders and burlesque bar vagrants.
Alan Cumming at the 1998 Tony Awards performance of 'Cabaret.' Photo by Jeff Christensen/Reuters.
Old voices may be trying to make things better. Stephen Sondheim is currently rewriting his musical Company to make the main character of Bobby gay (as has been long suspected by Sondheim fans), and to turn the character of Joanne into a man. While this will be a major change to a classic show, and one that gives a knowing wink to the longstanding question of why gay men always play Bobby better, this is the same musical that had to remove the word "fag" in its revival productions and portrays one character's repressed homosexuality as a gag, not a tragedy.
This is not enough. There needs to be an acceptance of new writing that, citywide, enters the discussion that the big theaters won't tackle. Broadway doesn't need to be a soapbox, but it can't keep pretending to be Cher when it's churning out "Work Bitch" after "Work Bitch."