I Have Come To Bury Mandela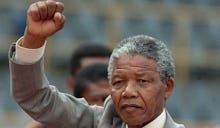 As the whole world mourns the death of Nelson Mandela (Madiba), I have come quite like Mark Anthony at the funeral of his dear friend Julius Caesar — to bury Mandela, not to praise him. For what songs of praises there were to sing I have already sung, and those who did not hear me then, will now hear as those songs of praises echo across the world from the narrowest corner of the globe to wider cities. In a world so plagued with selfish politicians who place self-aggrandizement ahead of public interest, Madiba epitomized the idea that a leader must be a unifier, one who cared for even the least of society; a servant of the people.
As we prepare to place him in the pantheon of noble leaders, I am reminded of his love for classic Greek plays. As a prisoner, Mandela read and analyzed the characters — perusing the acts and scenes for inspiring characters in preparation for his own leadership. He later wrote that what he took out of those plays "was that character was measured by facing up to difficult situations and that a hero was a man who would not break even under the most trying circumstances." Needless to emphasize that this very ideal of not flopping in defense of high moral imperatives is what transformed the young commander of Umkhonto we Sizwe (Spear of the Nation) into one of the greatest statesmen to ever walk this earth.
In a prison acting stint, Mandela played Creon in Sophocles' Antigone. The commander in Mandela must have identified a little with Creon, an elderly king engaged in a civil war over the throne of his beloved city-state, who believed that obligation to the people surpasses loyalty to individuals. But that would be the end of their similarity, because Mandela believed that Creon's "inflexibility and blindness ill become a leader, for a leader must temper justice with mercy." Mandela particularly disagreed with the king's treatment of Antigone and he points out that it was Antigone who characterized the African National Congress (ANC)'s struggle against apartheid. The prisoner Mandela must have seen himself in Antigone's predicament, a victim of defying unjust laws.
As the world mourns the loss of Madiba and condolences continue to flow on social media, I personally feel like the centurion in the biblical story of the crucifixion of Christ. As Christ took his last breath on the cross, the book of Luke tells us that it was the sixth hour, and the earth was consumed by darkness until the ninth hour, the sun was darkened, and the veil of the temple was ripped apart. It was at that moment that the centurion is said to have wondrously glorified God and exclaimed: "surely this was a righteous man." As I received phone calls, read emails, skimmed through Facebook posts and tweets, like the centurion I mumbled: surely this was a great man!