A Personal Look at the Complex Country Nelson Mandela Left Behind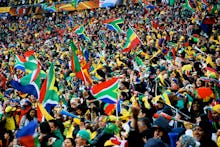 I always wanted to own a Jeep, and when I moved to South Africa in January 2011, I knew it was my chance.
I bought a 1995 Grand Cherokee. I loved that thing. But, man, I hated it. The driver's seat was on the wrong side of the car; the cars were on the wrong side of the road. Wide right, wide right, tight left — it still haunts me. I won't lie: I knocked off a side mirror or two. That tin can piece of shit stalled out whenever it wanted to and shook uncontrollably at certain speeds. But it got me where I needed to go, for the most part. It cooperated when I had to roll through red lights at night to avoid a "smash and grab" — when someone smashes through your window to grab your cell phone or purse. Parking was a pain, but the "car park" guys — standing on the street in free spots, signaling you and helping you park in return for a tip — mitigated that problem. Most importantly, my friends and I had some of our best laughs in that off-roading silver beast of a death vehicle.
It was completely impractical for the streets of Pretoria. But there we were, my Jeep and I — two lost Americans, driving on the wrong side, making wrong turns. The car embodied contradiction, which was actually quite fitting. South Africa is the land of ultimate paradox.
(Jacaranda trees line a street in Pretoria, the nation's capitol city)
The country is an anomaly, an endless collection of contrasts that make no sense. It imprisoned Nelson Mandela for 27 years, yet made him president. He should have been angry and resentful, but he was peaceful and forgiving. The ugliness of apartheid is juxtaposed with the astounding progress since. The country has the highest GDP in sub-Saharan Africa, but also the highest rate of HIV/AIDS in the world and a 25% unemployment rate.
South Africa is also one of the world's most violently criminal countries. Some of the bitterest tensions have been between the native Zulu and Xhosa, both black, and between the Anglos and the Boers (present-day English South Africans and Afrikaners, both white.) I remember my South African friend telling me about the multiple reconstructive surgeries he's had on his jaw, which was badly damaged after a bar brawl. A group of Afrikaans guys, he insisted, beat him up just because he was English.
But citizens' acknowledgement of South Africa's problems is almost always accompanied by responses like, "But I wouldn't want to be anywhere else" or "But it is still the greatest country in the world." When my colleague was seven months pregnant with her first child, a baby girl, her husband was shot to death before her eyes by a robber in a home invasion. In the news story about the incident, she said, "It is clear that your life is never safe no matter where you live. There is no such thing as a safe place in South Africa."
But she will never leave. South Africa will always be home to her. It's her country, and she's damn proud of it. 
At first, I didn't understand how people could love their country so fiercely despite suffering endlessly from its problems. At the same time, it made sense. It was unfair for me to enter at one particular moment in time without considering the long history from which that moment was a product.
Chippa Mngangwa, 32, grew up in the Langa township, the oldest township outside of Cape Town, with a population of 80,000. "As a country, we have been through many difficult times," he said. He was 13 years old when South Africa held its first democratic elections. "Those are the moments that I will treasure for the rest of my life. I am lucky they happened in my lifetime. I am highly optimistic about my country. I can say it proudly that I am living in a new South Africa." He firmly believes that Nelson Mandela died a happy man.
(Chippa Mngangwa, 32)
Werner Hoppe, a 31-year-old from Cape Town, said, "I believe South Africans have pride because of all the obstacles we have overcome and how far we have come in the past 20 years. We have one of the best constitutions in the world drawn up by Mandela. We have many different cultures, languages, races, customs, and religions, and all are tolerated and respected. We have a terrible history of violence and oppression, but we overcame it peacefully and have the Truth and Reconciliation process to heal."
"We have a beautiful country with friendly people, so that's what I think makes the people of South Africa proud."
(Musicians playing at a market outside of Johannesburg)
I remember that during the Rugby World Cup in the fall of 2011, every passerby on the street donned Springbok gear. Every waiter and waitress in every restaurant was decked out. Proud banners lined the streets, and you could hear cheering at bars from blocks away. It didn't matter if you were Afrikaans, English, Indian, Xhosa, Zulu, Venda, Twsana, Tsonga, Sotho, or Swazi. The country transformed into a sea of green jerseys — and black, white, rich, poor — nothing else mattered. Everyone was a South African, and everyone wanted to see South Africa win.
Hoppe said, "The Football World Cup was the best time I ever experienced in South Africa. The whole nation came together and everyone was happy, cheerful and as if they're all friends. Just walking down the streets during that time was magical."
It's interesting that the song "Shosholoza," originally a Zimbabwean folk song, was popularized in South Africa. The lyrics roughly translate to, "Go forward, go forward."
***
Just as I was scratching the surface of the country's complex history, just as driving on the other side of the road started to feel natural, and just as I was beginning to accept that it was summer in December and winter in June, it was time to leave.
It took over a month to get rid of my Jeep. A deal finally came through the day before my flight back to America. I waited with the buyer, an Afrikaans trailer shop owner, while the wire transfer went through.
"I'm not a racist," he leaned in and spoke in a thick Afrikaans accent. "I just fucking hate black people."
I was stunned, but I shouldn't have been. South Africa had been my home for a year. I was getting to know the complexities that lay beneath her surface, the colorful and twisted history. I was sad to part with my Jeep, leave my fellow American and beloved metal death trap behind. And now I was even sadder that it would be in the hands of a racist pig. I almost cut the deal off, but I was desperate.
Alas, it was only appropriate to be leaving feeling so conflicted. In South Africa, it wouldn't make sense if everything made sense.
(Below: a business card I found in Durban, South Africa)