Someone Just Paid a Record $209,000 For This Graffiti On a Brick Wall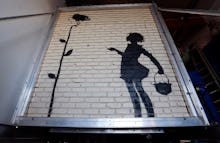 The news: Five works by British graffiti artist Banksy just sold for a staggering $457,000, including one painted on a rather unconventional medium. The graffiti-on-brick "Flower Girl" went for $209,000. The Banksy piece was stenciled on the side of a gas station's wall before the enterprising station owner decided to remove the wall entirely and offer it up for auction.
The background: The famed yet anonymous street artist has a long history of thumbing his nose at standard art world practices.  He has not accepted payment for his work since 2009, when he dissociated from gallerist Steve Lazarides, in protest of the commoditization of art. Even before then, he was the opposite of the groveling artist, grateful for those willing to shell out astronomical sums for his creations. At the height of the contemporary art bubble in 2007, three Banksy works sold well above estimate for six figures apiece at a Sotheby's auction – an outcome that would have left most artists elated. Not so Banksy: the next day, the artist updated his website to show a photo from the auction, with the text "I Can't Believe You Morons Actually Buy This Shit." 
A few decidedly non-moronic New Yorkers took advantage of Banksy's insistence on valuating his own art on his own terms this fall, when the artist set up a pop-up shop in Central Park, and tried to sell a few paintings without advertising who they were by. Without the veneer of exclusively from a gallery or auction house or the hawking of his own name, only eight pieces were sold to three buyers for a mere $60 a piece. Each piece is valued on the contemporary market for upwards of $200,000.
The takeaway: As the enterprising gas station owner shows, not everyone shares Banksy's disdain for the commoditization of art – nor can everyone afford to. It's one thing to eschew material gain when your net worth is more than $20 million, like Banksy. It's another to be a gas station owner –who has chosen to stay anonymous – and find yourself the inadvertent owner of a piece that proved its value on the market as a potentially transformational sum. "Flower Girl" may sound like a pure name, and the artist may have intended it to be a purely aesthetic public enjoyment, but thanks to the auctioneers, buyers, and purveyor of his piece, "Flower Girl" may serve to show the limits of Banksy's self-imposed purity, no matter how hard he tries to preserve it.