This Is the Most Sexist Tourist Trap In New York City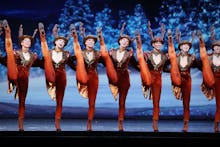 The Radio City Christmas Spectacular has become an essential component of New York City's tourist culture each December. In fact, according to the New York Times' Laurel Graeber, "It's a living greeting card to New York, sealed with a kiss." When families come to experience a winter wonderland in the Big Apple, they often include in their hectic itinerary the show that has come to symbolize holiday tradition in Manhattan. The Christmas Spectacular is a tourist trap; it's the Statue of Liberty of Christmas.
Of course, the Rockettes take center stage in this "Jingle Bells" bonanza. Founded in 1925, the Rockettes have become a New York City institution. Now no Macy's Thanksgiving Day Parade is complete without their French twists and can-cans. In holiday raiment that's more like lingerie than costumes, they morph into a single identity as they take their place in line, kicking, posing, and sporting smiles that exude Christmas cheer. As they dress in tight unitards or corsets designed to embody tinsel and holly, however, they are at once commodified, dehumanized, and placed on an assembly line of glam-girls and glitter. And every time we purchase a ticket to see their fan kicks and frills, we must consider whether we are perpetuating harmful female stereotypes of identical brainless beauties.
Photo: AP
Sometimes the Christmas Spectacular does more than put familial audiences in the mood of giving five times a day, seven days a week. For young girls who are impressed by the applause and renown the Rockettes receive, the show can inspire a career goal. Each year, between 400 and 500 hopefuls line up at auditions for the opportunity to participate in the Spectacular themselves. However, if they're not between 5'6" and 5'10 1/2", they might as well kiss their dream goodbye. In a corps that is based on individuals culminating to create a single body, height and weight anomalies aren't allowed.
Photo: AP
The Rockettes' repertoire offers few options for young girls to aspire to in the first place: mythical creature, interbred plant candy cane, or, perhaps most promisingly, wealthy aristocrat who married rich and who rides around in a New York City tour bus wearing fur and a fuzzy headband. 
Photo: AP
To top it all off, the Rockettes don't execute complicated choreography. Other performers pirouette and jeté across the stage as these adorable ballerinas turned Vegas showgirls throw their legs in the air and occasionally stick their hips out, pop their toes, and flash the audience toothy grins.
In recent years, Rockettes Director Linda Haberman has attempted to implement numbers that depict Radio City's sweethearts as fierce feminists through the use of technology and popular video game culture. The dance company's PR organization has also decided to try to rebrand the show as a physical endeavor, and the videos played in Radio City's lobby emphasize the challenging schedule that the dancers endure for weeks before performances begin.
In these clips, the Rockettes aren't gleaming and gussied up, but rather are depicted conditioning in the weight room or perfecting formations in rehearsal. On rockettes.com, a snazzy advertisement reads, "The stage door has opened for you to enter the world of the Rockettes. Join and share the experiences that have made them more inspired dancers, stronger athletes, and empowered women — the experiences that have made them Rockettes." In a photo underneath the caption, a racially inclusive group squats on pilates balls in full makeup and with no sweat in sight.
Photo: Amanda Schwab, AP
While families happily toss on 3D glasses and enjoy the special effects thanks to Haberman's new choreography, some critics still question whether the Rockettes are truly making any improvements on their backwards reputation. "Not to sound like an awful curmudgeon," Virginia Sole-Smith writes, "but I'm not convinced we can remake the Rockettes as karate-kicking post-feminist role models, no matter how many LED special effects the new show employs."
Though a move in the right direction for women's rights, the Rockettes' supposedly progressive new campaign is not enough to redress their longstanding feminist fallacies. When children watch the show, they are still presented with visuals of decadence and luxury, not of the stress and seriousness associated with athleticism. They grasp onto the shiny elegance of the Rockette as she taps along to "The 12 Days of Christmas," and the message about what women should represent is obvious.
Photo: AP