The Scary Thing Everyone Thought Would Happen in Iraq is Now Happening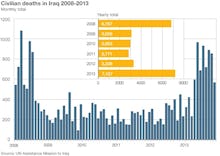 There have been more Iraqi civilian deaths in 2013 than any year since 2008. More than 2011 and 2012 combined, 7,157 civilians have been killed in Iraq since January this year. Check out the chart from BBC below:
Source: BBC
This year has seen a spike in deaths in Iraq. Along with the civilian deaths, nearly 1,000 security forces personnel have been killed in 2013. Deaths in Iraq are hitting pre-surge levels, on a rapid rise, hitting a peak not seen in five years.
Over 650 Iraqis were killed in November, with 1400 injured, according to the United Nations. And that's actually down from October, when nearly 1,000 were killed. Most of these deaths, the UN says, come from bombings, like the car bomb that killed 11 people on December 9. The UN also reports a surge in execution-style killings, carried out in a particularly "horrendous" manner. 
Senators from the Armed Services and Foreign Relations panel put it plainly: "Security conditions in Iraq have dramatically worsened over the past two years," they said in a letter to Obama in November. In his meeting with Iraqi Prime Minister Nouri al-Maliki, the president promised the U.S. would continue to be a strong partner in procuring a stable Iraq.
All this after the Iraq War was supposedly "won." It's a decade-old conflict that keeps on costing thousands of lives each year. And as the U.S. continues to find new conflicts in which to be entangled, it might be easier to think this war was indeed won. But the 7,000-plus Iraqi deaths this year would beg to differ.