10 Iconic American Brands Owned By Foreigners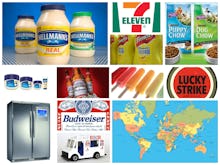 In this day and age, not everything you think is American really is anymore. Foreign conglomerates want access to the extremely lucrative American market, and one of the quickest ways is to buy their way into an established brand and capitalize on their well-known branding and imagery. Here are 10 iconic American brands that have been bought out or merged with foreign companies.
1. Budweiser
Founded in 1852, Adolphus Busch didn't actually develop the American lager you've come to know and love (or hate) until 1876. It was one of the first pasteurized beers, meaning it was safe to ship and consume over long distances, perhaps explaining its early popularity despite what most beer fans today would perhaps charitably describe as a poor flavor profile. Brazilian-Belgian giant InBev bought Anheuser-Busch Cos. in 2009 for - wait for it - $52 billion, or approximately how much President Obama wants to spend fixing our transportation infrastructure. That's a lot of beer.
2. Popsicle
Yes, even your favorite summer treat is owned by a foreign holding company. Invented in 1905 by an 11-year-old, the company took off in 1923 and was sold in 1989 to ...
3. Good Humor
... Good Humor, which produces ice cream and all other kinds of frozen treats you're likely to see at your neighborhood ice-cream truck. Founded by Ohioan Harry B. Hurt in 1923, who also built the nation's largest fleet of ice-cream trucks, Good Humor was bought in 1961 by Lipton, a subsidiary of Dutch firm Unilever. Both Popsicle and Good Humor are now owned by Unilever.
4. Frigidaire
Frigidaire was formed in 1918 after General Motors acquired and renamed refrigeration unit manufacturer Guardian Frigerator Co. in 1916. In 1979, the firm White Consolidated Industries bought Frigidaire, later passing it to Swedish appliance conglomerate AB Electrolux.
5. 7-Eleven
The modern 7-Eleven brand didn't exist until 1946, when convenience chain owner Jefferson Green renamed his ice houses offering groceries to form the modern brand. Seven-Eleven Japan bought 7-Eleven, Inc. in 2005.
6. French's
French's mustard debuted at the World's Fair in 1904, quickly becoming a widespread staple of American condiments. Co-founders and brothers George and Francis French actually sold this company to U.K. firm J&J Colman in 1926. After a convoluted series of mergers and acquisitions, the business is controlled by another British firm, Reckitt Benckiser.
7. Purina
The St. Louis company wasn't originally associated with dog food, instead making cereal. Co-founder William H. Danforth revolutionized animal feed production by developing a method to turn it into pellets, renaming the company Ralston Purina; in 1997 General Mills purchased the cereal business, and in 2001, Swiss-owned Nestle merged with Ralston Purina Co. to form a new division, Nestle Purina PetCare.
8. Vaseline
Also Unilever. A chemist in Brooklyn, Robert A. Chesebrough, invented petroleum jelly in 1870, a product now used to treat burns and rashes. His company marketed and sold the product internationally before Chesebrough Manufacturing Co. was snapped up by Unilever in 1987.
9. Hellmann's
Suprise! Unilever purchased this iconic American condiment brand in 2000. From its humble origins as a New York delicatessen in 19213 to becoming the dominant condiment brand on the East Coast, Hellmann's mayonnaise is just one of the company's many products.
10. Lucky Strike
Yes, your standard World War II G.I.'s favorite cigarette is not owned by Americans any more. Founded in Virginia (where else?) in 1871, it was bought by North Carolina company American Tobacco Co. at the turn of the century and was one of the first mass-machine-rolled cigarettes. In 1994, American Tobacco Co. was bought by the suspiciously named British firm American Tobacco.