Can You Guess What Rebecca Black's New Viral Song Is Called?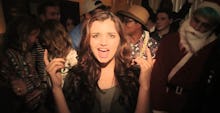 Black is back, and it's about time. As of writing 1,001 days have gone by since Rebecca Black first broke the internet with "Friday." That's 856 days that have passed by in ignominy without a Rebecca Black song tied to their name.
But genius takes time. And finally Black is here to make sure that no more Saturdays slip by unnoticed and unappreciated. Of course there are great Saturday songs like, Elton John's "Saturday Night's Alright for Fighting," the Grateful Dead's "One more Saturday Night" and, in a wild break with Saturday night tradition, Eel's "Saturday Morning." Oh and wasn't their some John Travolta musical about Saturday nights?
But as Black herself so earnestly reminds us, Saturday comes after Friday which makes it the prime day for a Rebecca Black song. So "Saturday" it is, and Black's latest video celebrates the unbridled hedonism that is the life of a 16-year-old — when they're not at school or doing their homework, that is.
In her latest video Rebecca Black has grown up. She parties now. She parties hard. There are red cups and passed out underage kids everywhere, and even an homage to fellow controversial artiste Miley Cyrus. It's all pretty edgy.
As fun, and easy as it is to criticize Black's musical efforts, "Saturday" is truly no "Friday." The auto-tune has been dialled down to an only mildly robotic tone, and a healthy dash of self-awareness has been thrown into the mix. It's not great, but it's a perfectly respectable pop song, no worse than the stuff churned out by plenty of major label pop stars, and it currently has not only 9 million views on YouTube but a good portion of those viewers (100,000, to be exact) actually even took the time to like it.
Rebecca Black may be predictable, but kudos to her for not giving up and surrendering to the hate. By God, I can't wait for "Sunday."