40 Perfect Photos That Sum Up 2013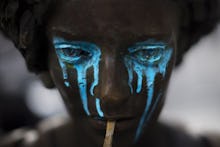 Protest. Discovery. Confusion. Awe. 
Throw in moments of surprise, disgust, and hilarity, and that about perfectly sums up 2013.
It's been a crazy year. Take a look.
1. 
A giant rubber duck created by Dutch artist Florentijn Hofman is towed along Hong Kong's Victoria Harbor on May 2. Since 2007, the duck has traveled to 10 countries and 12 cities.
2.
Canadian Space Agency astronaut Chris Hadfield watches a water bubble float freely between him and the camera, showing his image refracted, in the International Space Station on January 21.
3.
A bolt of lightning strikes the South Rim of the Grand Canyon. (Travis Roe/ Department of the Interior)
4.
Tammy Holmes and her grandchildren take refuge under a jetty as a wildfire rages in the Australian town of Dunalley.
5.
A meteor's trail over the Ural Mountains' city of Chelyabinsk, about 930 miles east of Moscow, Russia, on February 15. The 13,000 ton meteor hit Earth's atmosphere at 42,000 mph and exploded, smashing windows and causing hundreds of minor injuries.
6.
Michael Kiefer, of DeFuniak Springs, Fla., checks out a display of rifles at the Rock River Arms booth during the 35th annual SHOT Show, in Las Vegas. 
7.
Revelers throw colored powders in the air during the Holi Festival of Colors in Lisbon on Sept. 15 . The festival, which is mainly celebrated during the Hindu spring festival Holi in some regions of India and Nepal, has become popular among people in other communities.
8.
A view of Firdos Square, in Baghdad, Iraq, at the site of an Associated Press photograph taken by Jerome Delay 10 years earlier, as the statue of Saddam Hussein was pulled down by U.S. forces and Iraqis on April 9, 2003. Today, the pedestal in central Baghdad stands empty. Bent iron beams sprout from the top, and posters of anti-American Shiite cleric Muqtada al-Sadr in military fatigues are pasted on the sides.
9.
Aerialist Nik Wallenda walks a 2-inch-thick, quarter mile long steel cable over the Little Colorado River Gorge in northeastern Arizona in June.
10.
Garrett McNamara attempts to break the Guinness World Record for largest wave ever surfed on in Nazare, Portugal. (Tó Mané / Barcroft Media / Landov)
11.
An anti-government protester gives a rose to a Thai soldier at the Defense Ministry during a rally in Bangkok.
12.
Bill Iffrig, 78, lies on the ground as police officers react to a second explosion at the finish line of the Boston Marathon in April.
13.
President Barack Obama looks to see if it is still raining as a Marine holds an umbrella for him during his joint news conference with Turkish Prime Minister Recep Tayyip Erdogan, who is not pictured, in the Rose Garden of the White House in Washington.
14.
A Bahraini anti-government protester is engulfed in flames after a shot fired by riot police hit the gasoline bomb in his hand that he was preparing to throw.
15.
Amateur photo taken in the decaying ruins of the Packard Plant in Detroit. (mijreggin/ Imgur)
16.
A man watches as Mount Sinabung erupts in Gundaling, North Sumatra, Indonesia. About 15,000 people were evacuated from 17 villages on the slope of Mount Sinabung after authorities raised the alert status of the rumbling volcano to the highest level on Nov. 24.
17.
A woman sits in prayer while her head is shaved to mourn the late Cambodian King Norodom Sihanouk ahead of his funeral in Phnom Penh, Cambodia.
18.
This photo went absolutely viral right after the government shutdown in October. A boy looks into the National Zoo in Washington, D.C., which was temporarily closed due to the shutdown. (Reddit)
19.
A French soldier checks passengers of a transport truck arriving in Gao, northern Mali, in February. 
20.
A Pakistani man carrying a child rushes away from the site of a car bombing in Peshawar, northwest Pakistan.
21.
A sign of the times. Catholics take photos with their phones and tablets of the newly-elected Pope Francis as he speaks from the central balcony of St. Peter's Basilica at the Vatican.
22.
Thania Sayne leans on the headstone marking the grave of her husband, who was killed in Afghanistan in 2011, at Arlington National Cemetery.
23.
Capt. Michael Potoczniak marries his partner Todd Saunders, in a ceremony in San Francisco on June 29.
24.
A Philippine Air Force crew looks out from his helicopter as Typhoon Haiyan-ravaged city of Tacloban is seen in the background, during a flight to deliver relief goods in Leyte province, Philippines. Hundreds of thousands of people were displaced by Typhoon Haiyan, which tore across several islands in the eastern Philippines on Nov. 8.
25.
The flag-draped coffin containing the body of Venezuela's late President Hugo Chavez is taken from the hospital where he died, to a military academy.
26.
This guy.
27.
Miles, a five-year-old battling leukemia, is dressed as "Batkid" as part of a day arranged by the Make-A-Wish Foundation in San Francisco on Nov. 15.
28.
Inmate firefighters prepare to battle the Rim Fire near Yosemite National Park, Calif., in August.
29.
President Obama looks out the "Door of No Return" on Goree Island off the Senegalese coast, which was the last stop for millions of slaves sent to the New World.
30.
A military police pepper sprays a protester during a demonstration in Rio de Janeiro, Brazil in June. Protesters massed in at least seven Brazilian cities Monday for demonstrations voicing disgruntlement about life in the country, raising questions about security during big events like the World Cup and Olympics.
31.
Blue paint falls from the eyes of a vandalized statue, in Madrid, on Nov. 10.
32.
Smoke rises during clashes between Egyptian security forces and suspected militants, not pictured, in the town of Kirdasah, near Giza Pyramids, Egypt. Egyptian security forces backed by armored vehicles and military helicopters laid a siege on an Islamists' stronghold near Giza Pyramids and exchanged fire with what officials identified as "terrorist and criminal elements." 
33.
An election campaign posters of German Chancellor Angela Merkel is photographed through a car window covered with rain drops in Berlin, Germany, on Sept. 9. Merkel won her third term that month.
34.
French daredevil Alain Robert reaches into his chalk bag as he scales the Habana Libre hotel without using ropes or a safety net, in Havana, Cuba.
35.
A worker leaves the site where a garment factory building collapsed near Dhaka, Bangladesh Monday, April 29, 2013. The collapse of Rana Plaza in Dhaka that killed 1,129 people.
36.
In this combination of Feb. 25 and Oct. 13, the sun rises in Seaside Heights, N.J., behind the Jet Star Roller Coaster which had been sitting in the ocean after part of the Casino Pier was destroyed during Superstorm Sandy, and the empty site nearly a year after the storm.
37.
Tony Appleton, a town crier, announces the birth of the royal baby, George, outside St. Mary's Hospital exclusive Lindo Wing in London, on July 22.
38.
Authorities carry out the court-ordered amputation of the fingers of a convicted thief in a public square in the southern Iranian city of Shiraz. The 29-year-old man was convicted for being part of a 10-member gang that carried out burglaries in the city and on charges of having "illegal relations," according to theMehr news agency. Iran's legal system, based on Shariah, provides for amputation of limbs for theft. 
39.
A demonstrator with his face covered jumps over a burning barricade at the Cinelandia square during a march in support of teachers on strike in Rio de Janeiro, Brazil.
40.
These guys.
All photos courtesy of the Associated Press, unless noted.